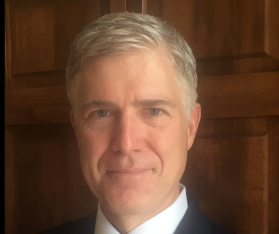 Multiple reports indicate President Trump has selected Judge Neil Gorsuch to serve on the Supreme Court. Trump has stated he will announce his pick at 8:00 pm Tuesday night.
The Independent Journal Review reported that two sources within the Trump administration have confirmed this. One source told ILJ, "Yes. It is Gorsuch. 100 percent. The Hardiman thing is a head fake," referring to Judge Thomas Hardiman, the other finalist for the Supreme Court seat left vacant by the late Justice Antonin Scalia. A second source backed this up.
Additionally, Townhall.com reported that Gorsuch is Trump's selection, according to "a source close to Team Trump's confirmation operation."
According to SCOTUSblog, Gorsuch "is celebrated as a keen legal thinker and a particularly incisive legal writer, with a flair that matches — or at least evokes — that of the justice whose seat he would be nominated to fill."  In fact, in a study called Searching for Justice Scalia: Measuring the 'Scalia-ness' of the Next Potential Member of the U.S. Supreme Court, Gorsuch earned high marks in several categories important to the late Justice Scalia, including "originalism" and "textualism." Like Scalia, Gorsuch has gained notoriety for his lively judicial writing style
Time will tell if the reports are accurate, with Trump's official announcement coming tonight. Stay with LawNewz.com for the latest.
Have a tip we should know? [email protected]