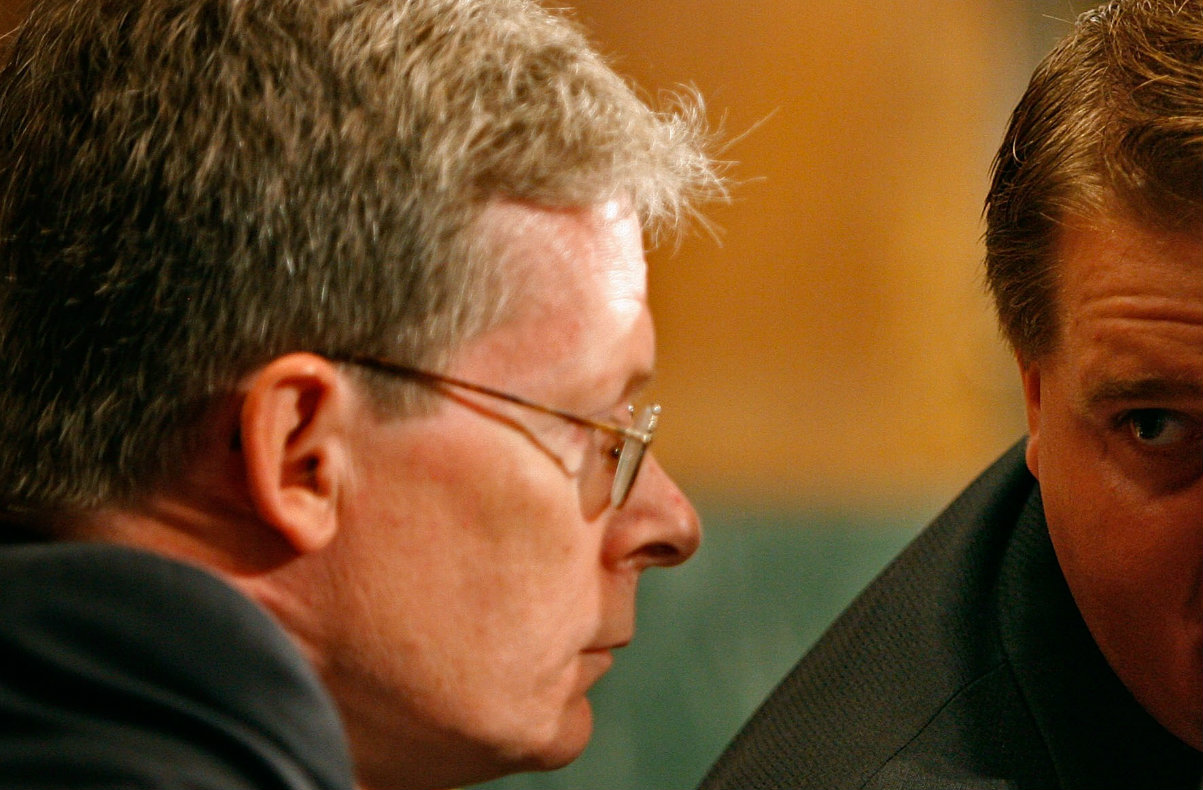 Here's an interesting tidbit: President Donald Trump is trying to hire a lawyer who represented Bill Clinton during impeachment, according to The New York Times. If hired to join POTUS' outside legal team, attorney Emmet T. Flood would help deal with Special Counsel Robert Mueller's investigation. Sources were described as "four people familiar with the matter," who said Flood met with the president this past week in the Oval office. Two of those people said there is no final decision yet.
White House officials did not immediately answer a request for comment when the Times reached out. Flood declined to say anything when the outlet asked for a response. The president comment on the story on Sunday, calling it false. He took special umbrage at the article's detail that he seemed frustrated with his legal team's response to the special counsel's probe:
The Failing New York Times purposely wrote a false story stating that I am unhappy with my legal team on the Russia case and am going to add another lawyer to help out. Wrong. I am VERY happy with my lawyers, John Dowd, Ty Cobb and Jay Sekulow. They are doing a great job and…..

— Donald J. Trump (@realDonaldTrump) March 11, 2018
…have shown conclusively that there was no Collusion with Russia..just excuse for losing. The only Collusion was that done by the DNC, the Democrats and Crooked Hillary. The writer of the story, Maggie Haberman, a Hillary flunky, knows nothing about me and is not given access.

— Donald J. Trump (@realDonaldTrump) March 11, 2018
If Flood joins the Trump team, then he would be changing his mind about representing Trump. Currently an attorney at the law firm Williams & Connolly, it was last Summer when he reportedly turned down a chance to work for the president.
Upon hearing Saturday's news, at least one of the president's critics paid respect to Flood's skill as a lawyer. Here's the response from Preet Bharara, who Trump famously fired as U.S. Attorney in March 2017. Note the shade being thrown:
Emmet Flood is top notch. He might feel out of place. https://t.co/HCkKYh2OWI

— Preet Bharara (@PreetBharara) March 11, 2018
It wouldn't be Flood's first time working for a Republican president. He served in the White House counsel's office during the George W. Bush administration. He also defended Vice President Dick Cheney in a lawsuit by former CIA agent Valerie Plame.
[Image of Flood in 2007 via Chip Somodevilla/Getty Images]
Have a tip we should know? [email protected]