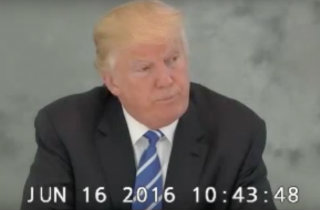 President-elect Donald Trump sure seems busy these days. Filling his cabinet. Attending intelligence briefings. Tweeting about Russia. Oh, and being deposed under oath for as long as seven hours as soon as today. The deposition is in connection to a chef pulling out of a restaurant deal at Trump's new hotel in Washington D.C. Upon Trump's insistence, the deposition is expected to take place at Trump Tower after the President-elect made the request citing "security reasons" in addition to cost and convenience.
The deposition involves a lawsuit filed against Chef Jose Andres. Both Andres, and fellow restaurateur Geoffrey Zakarian pulled out of the deal shortly after Trump made some controversial remarks about Mexican immigrants — calling them "rapists."
Trump wanted to cap the deposition to just two hours or cancel it entirely, but DC Superior Court Judge Jennifer A. Di Toro ruled that Trump must sit for the session — and it could last up to 7 hours. Politico reports that Trump's attorney, Rebecca Woods, who is handling the case, was spotted in Trump Tower on Wednesday.
Andres has apparently tried to bring this lawsuit to an end and strike some kind of deal with Trump. On Thursday morning, Andres tweeted this:
Again Mr. Peotus @realDonaldTrump if you are awake, let's resolve this in a friendly way. We donate $ to a charity, ..? Is a great deal!

— José Andrés (@chefjoseandres) January 5, 2017
It seems though that, at this point, Trump is unwilling to settle. The President-elect did sit for a deposition in June as a part of a separate lawsuit against Zakarian, who also pulled out of a deal to open a restaurant. (WATCH BELOW)
This isn't the only lawsuit that Trump may face as president. He could end up getting caught up in as many as 75 others. In November, Trump agreed to a $25 million settlement over the outstanding fraud lawsuits over his Trump University real estate courses.
In case you were wondering, Trump would not be the first President to sit for a deposition. President Bill Clinton was deposed as part of a lawsuit filed by Paula Jones who accused him of sexual harassment. At the time, Clinton argued that he couldn't be sued because he was a sitting president. The case went all the way up to the Supreme Court. SCOTUS ruled that presidents can indeed be sued for actions that take place prior to taking office or that are not related to the Presidency. As we previously reported, Justice John Paul Stevens wrote in his 1997 opinion that while Presidents may be protected from liability regarding official actions in office so they can "perform their designated functions effectively without fear," that protection does not extend to unofficial conduct.
[image via 2016 deposition]
Have a tip we should know? [email protected]
Rachel Stockman - Editor in Chief / On Air Host