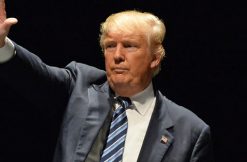 Two weeks ago, "Jane Doe" dismissed her rape lawsuit against Donald Trump and convicted pedophile Jeffrey Epstein, but promised to refile. It happened on Friday. She and her attorney brought forward an amended complaint to The U.S. District Court for the Southern District of New York. This one includes a new witness.
The original lawsuit claimed Trump raped the then-13-year-old plaintiff in the 1990s. There was also a second anonymous woman, known as "Tiffany Doe." She said that Epstein had her pickup teenage girls for his parties. One of these girls was Jane, and Tiffany said she witnessed Trump and Epstein rape the plaintiff several times.
The new complaint adds a third woman. She's known in court documents as "Joan Doe."
"In the 1994-95 school year, I was told by the plaintiff in Jane Doe v. Trump and Epstein (1:16-cv-04642, SDNY) that the plaintiff was subject to sexual contact by the Defendants at parties in New York City during the summer of 1994," her declaration states.
The complaint also builds on the lawsuit's original defamation claim.
Trump's attorney Alan Garten flatly denied the original lawsuit in a June interview with LawNewz.com, and he has now denied this amended complaint.
"As I have said before, the allegations are categorically untrue and an obvious publicity stunt aimed at smearing my client," he told LawNewz.com on Saturday. "In the event we are actually served this time, we intend to move for sanctions for this frivolous filing."
This is actually the third time the plaintiff has filed the lawsuit, and there are some definite legal complications. From our June article about the lawsuit:
There are also some obvious legal hurdles based merely on the claims in the suit that would also make this case quite difficult.

For one, the statute of limitations on many of the claims including sexual misconduct, assault and battery has run up. Other than an affidavit by another unidentified woman who claims to have witnessed the encounters, there appears to be no other evidence concerning what happened. This woman does not indicate that she ever went to police. In addition, no other evidence like DNA or taped conversations has surfaced.

The plaintiff in this case has additionally claimed that she was "defamed" after Trump's attorney said her allegations were "categorically false" following her first lawsuit in California. At this point, the real identity of whoever is behind these lawsuits has yet to surface. It would be hard to prove that an anonymous woman suffered damage to her reputation if no one knows who she is.
This analysis stands since the new witness is the only major addition in the refiled complaint.
LawNewz.com obtained the court documents, so you can read these below. They are, in order, 1) the amended complaint, 2) Jane Doe's declaration, 3) Tiffany Doe's declaration, and 4) Joan Doe's declaration.
Amended Complaint Filed 9/30/2016 by LawNewz on Scribd
Jane Doe Declaration as Filed by LawNewz on Scribd
Tiffany Doe Declaration by LawNewz on Scribd
Joan Doe Declaration by LawNewz on Scribd
[image via Gino Santa Maria and Shutterstock]
–
Follow Alberto Luperon on Twitter (@Alberto Luperon)
Have a tip we should know? [email protected]