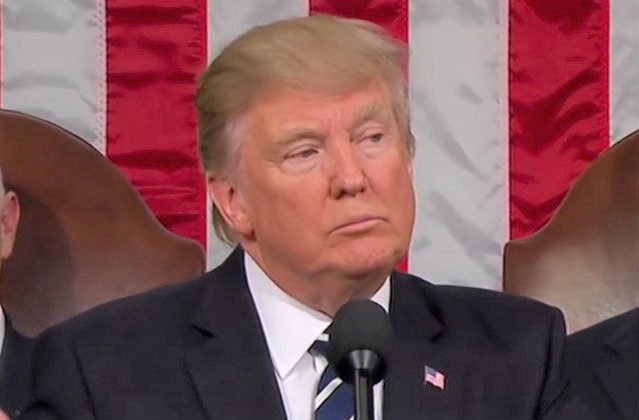 A new federal lawsuit claims President Donald Trump's federal financial disclosure forms may not have identified his actual personal debts.
From the complaint, filed Tuesday in a Washington D.C. federal court:
The purpose of these disclosure requirements is to allow members of the public to make informed judgments as to whether candidates for federal office have financial conflicts of interests that may impair their ability to faithfully execute their duties as public servants.
Health law finance attorney Jeffrey Lovitky is suing pro se, so he's acting as his own lawyer here. He claims POTUS is grating against the Ethics in Government Act, but he actually doesn't allege any wrongdoing here. He says he just wants more information for the sake of transparency.
POLITICO, who broke the story, managed to get any interview with him.
"Really the question is concerning the liabilities held by the LLCs [limited liability corporations] and we just need more information to be able to know whether or not those are personal or business liabilities," he said. "If you just look at the statement on its face, all those liabilities are assumed to be personal liabilities, but I just do not think that's the case. I have information that says otherwise."
The president's March 2016 disclosure form lists debts since the beginning of 2015, and liabilities were listed at over $315 million. Liabilities included a springing loan for Trump International Hotel and Tower Chicago, and a mortgage for Trump National Doral in Miami. Lovitky claims all of the debt information is already publicly available since these are often mortgages, but argues these records aren't clear about who is ultimately liable for loans when a debtor is a limited liability corporation.
He said he contacted White House Counsel Don McGahn back in January for a corrected disclosure form. No reply.
Trump is being sued in his official capacity as president. We reached out to White House spokespeople, and McGahn for comment. Meanwhile, private Trump attorney Sheri Dillon told POLITICO to speak to the Trump Organization about this. They declined to comment.
During the campaign season, Trump broke a decades-long tradition by refusing to reveal his tax returns. This bolstered his political critics, who voiced worry that his eponymous business enterprises might compromise his ability to govern. Some tax information has made it to the public sphere, however.
[Screengrab via NBC]
Have a tip we should know? [email protected]