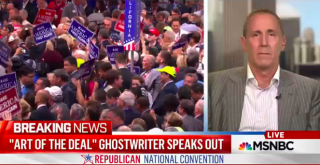 In between fending off plagiarism complaints, and hobnobbing at the Republican National Convention, Donald Trump reportedly instructed his lawyers to send Tony Schwartz, the ghostwriter of Trump's book The Art of the Deal, a cease and desist letter. In a tell-all article in The New Yorker this week, Schwartz, who spent 18 months following Trump around for the 1987 book, didn't exactly paint a flattering picture.
"I genuinely believe that if Trump wins and gets the nuclear codes there is an excellent possibility it will lead to the end of civilization," he told the The New Yorker. Schwartz says almost immediately after the article was published, he received a cease and desist letter delivered by FedEx.
"And, you know, it's completely indicative of who he is. There is no basis in anything legal. I suspect that Donald Trump called up his chief legal person and said, 'Go after that guy and do whatever you have to do," Schwartz said during an interview on MSNBC. He added that he is not certain that Trump even read the entire book.
The New York Times obtained a copy of the letter, which demanded that Schwartz deliver a "certified check made payable to Mr. Trump" and "written assurances that you will not generate or disseminate any misleading or inaccurate information or make any baseless accusations with respect to Mr. Trump."
Have a tip we should know? [email protected]
Rachel Stockman - President / On Air Host