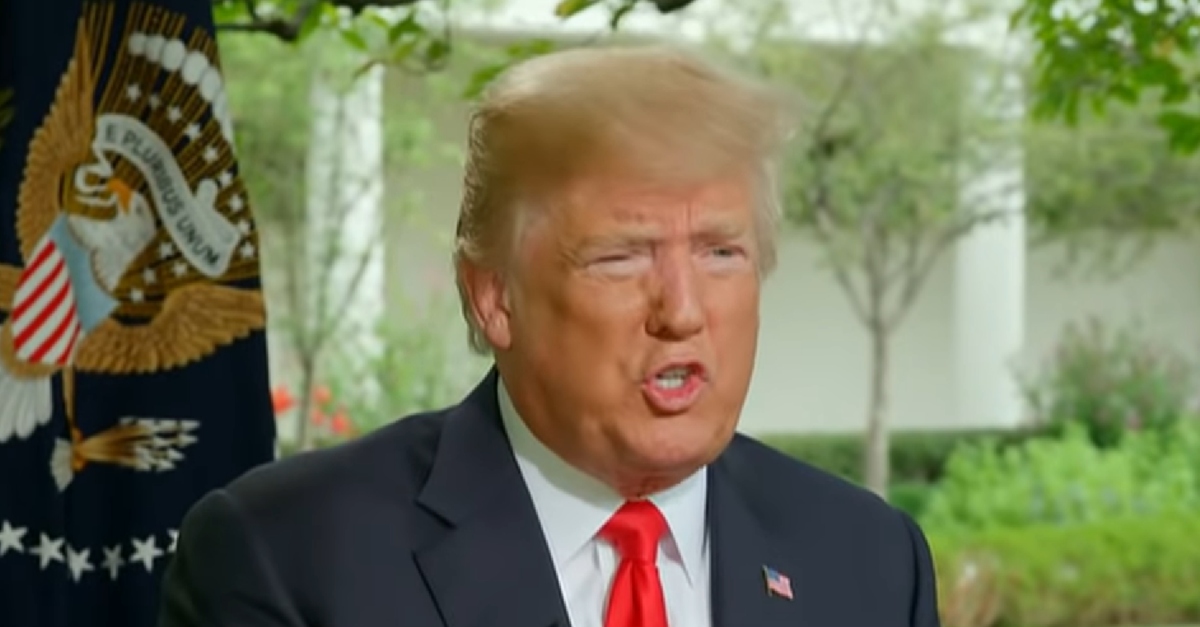 President Donald Trump is planning to keep his legal team in place well after Special Counsel Robert Mueller's eventual report on Russian electoral interference and potential obstruction is submitted to the U.S. Department of Justice, according to the Daily Beast.
Two anonymous sources cited by the outlet say that Trump's "inner circle" was briefed on the legal strategy in late 2018. Trump's top two personal lawyers–Rudy Giuliani and Jay Sekulow–were reportedly told to keep their staff in place post-Mueller probe in anticipation of myriad additional legal problems.
Reporters Asawin Suebsaeng and Erin Banco noted that those "conversations served as a private admission that federal investigations bedeviling [Trump's] first term in office will be haunting him for possibly years to come."
It's not exactly Mueller's report, however, that Trump's legal team is most concerned about–though Mueller obviously does somewhat factor into the equation. Trump and his allies are largely focused on cases being brought by the U.S. Attorney's Office for the Southern District of New York (SDNY).
The SDNY has already implicated Trump in the hush money payments arranged by Trump's former friend and "fixer" Michael Cohen. Both Cohen and federal prosecutors claim that Trump directed Cohen to commit the felonies in question.
Trump himself appeared to have showed his hand regarding the danger that the SDNY's ongoing investigations into the Cohen matter pose for him. As Law&Crime previously reported, Trump was said to have quizzed then-Acting Attorney General Matthew Whitaker as to whether his personal appointee–and administration loyalist–Geoffrey Berman could be placed in charge of the Cohen probe. Whitaker allegedly said this was impossible because Berman had already promised to recuse himself and Trump was reportedly none too pleased.
Also in the offing are various lawsuits and legal cases that might be brought by New York officials at the state level.
Empire State authorities have long had their eyes on various Trump family projects and entities. New York Attorney General Letitia James has all-but promised to go after Trump on various alleged state crimes. While New York's former Attorney General Barbara Underwood essentially used the powers of her office to get the Trump Foundation to dissolve.
One Trump ally who spoke with the Daily Beast on the record outlined the administration's thinking on the various legal problems they face.
"I believe the Mueller investigation has always been a part of 'the resistance,' designed to stop the president's agenda by any means necessary," former Trump 2016 campaign adviser Michael Caputo said.  "I believe the Southern District of New York is also part of 'the resistance'—when you see the city of New York and the state of New York joining in on the fun to tie the president's hands. [And] now that the House is controlled by Democrats and they have initiated innumerable investigations that will tie up the president as well, it is safe for 'the resistance' to end the Mueller investigation."
As far Trump adding to his legal team, Caputo said, "By my estimation there will be a need for more attorneys, because I expect the harassment to double, if not triple."
[image via Fox News screengrab]
Have a tip we should know? [email protected]