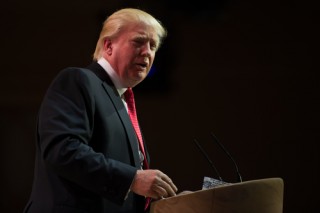 As Donald Trump emerged as the GOP's presidential nominee, a growing number of federal lawmakers came out in support of their party's candidate. 
Words are one thing. We wanted to know how many put their money where their mouths are by sending him contributions from their campaign committees and leadership PACs.
Turns out, the Republican nominee received a mere two donations totaling $3,292 from these funding streams through June 30, which includes the most recent data available. That's the third least in this presidential cycle, behind Rick Santorum and Rick Perry, and 64th out of 108 presidential candidates in the past seven elections over comparable time frames.
"This may be one more example of newly developing gradations of support developing that have not really been in play in past cycles," said Brendan Fischer, associate counsel at the Campaign Legal Center. "It goes along with different members of Congress saying they will vote for Trump, but they won't endorse him or contribute to him."
Hillary Clinton, on the other hand, topped the chart, drawing in the most campaign and leadership PAC funds of all presidential contenders since 1992. She earned $560,942 so far this year from 138 current, former or hopeful Democratic members of Congress, and $335,873 eight years earlier, the fourth biggest bundle.
OpenSecrets data shows that Trump's cash from Congress is especially lacking when compared just to previous party nominees: He received the second least from campaigns and leadership PACs, behind only Barack Obama in 2012, who is in the negative, actually giving back a net of $2,300 in campaign committee donations from the previous election.
There's an explanation: His campaign didn't want those funds.
"We didn't take PAC contributions in either campaign and I believe, because some candidates do accept PAC contributions, we limited candidate contributions," said Julianna Smoot, Obama's national finance director in 2008 and deputy campaign manager in 2012.
Four of the nominees raked in more than $100,000 in recent years: Clinton, George W. Bush (R) ($560,000 combined in 2000 and 2004), Mitt Romney (R) ($276,614) and John McCain (R) ($355,835).
Leadership PACs are limited to doling out $5,000 per candidate per election and candidate committees can give an additional $2,000 to another candidate each election, according to federal election contribution limits.
On Team Hillary, Sen. Al Franken (D-Minn.) is the only member to give the max of $14,000 to Clinton through his 2020 Senate campaign fund and leadership PAC Midwest Values PAC. Other top contributors include Sen. Barbara Boxer (D-Calif.) with $12,700, Rep. Steve Israel (D-N.Y.) with $12,700, and Sens. Cory Booker (D-N.J.) and Gary Peters (D-Mich.) with $12,000 each.
Team Trump received donations from one campaign committee contribution and one leadership PAC.
Longhorn PAC, Texas Republican Rep. Lamar Smith's leadership PAC, gave $3,000 to Trump's campaign and $1,000 to his PAC, Trump Victory. Smith endorsed the Republican nominee last May. The political action committee also gave $2,000 to failed Republican presidential candidate Scott Walker and $5,000 to Ted Cruz. Smith did not return requests for comment.
Trump's lone campaign committee donation of $292 came from Paul Mitchell, a Republican businessman running for Michigan's 10th congressional seat and primarily self-financing his campaign. Mitchell said he would respect voters' wishes and support Trump last May, according to the Detroit Free Press. Mitchell did not return requests for comment.
"There is some symbolic value in these numbers that stresses what we already know," said Kyle Kondik, political analyst at the Center for Politics at the University of Virginia. "Clinton has a high level of elite support within her own party and Trump has very little."
Neither the Clinton nor Trump campaigns replied to requests for comment.
Ashley Balcerzak is the money-in-politics reporter for OpenSecrets Blog. Senior researcher Doug Weber also contributed to this report. 
Have a tip we should know? [email protected]