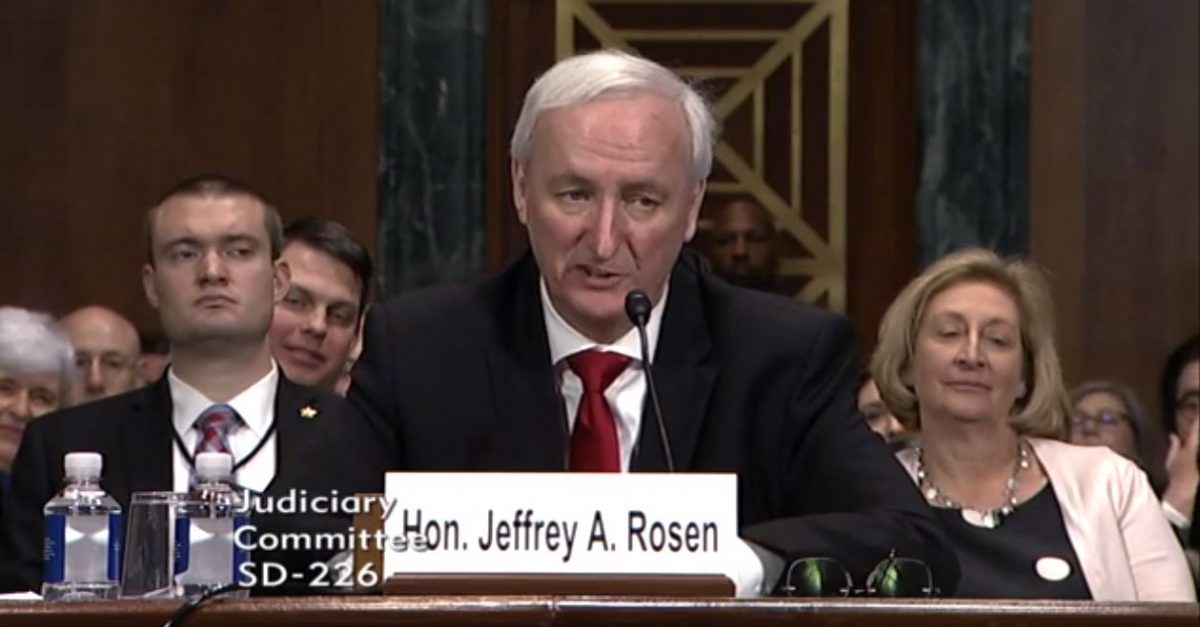 Jeffrey Rosen, President Donald Trump's pick to become the next Deputy Attorney General of the United States, is appearing before the Senate Judiciary Committee on Wednesday for his confirmation hearing. If confirmed, he will replace Rod Rosenstein. Rosen is currently the Deputy Transportation Secretary, having been confirmed to that position in 2017.
Before joining the Department of Transportation, Rosen was a partner at the law firm Kirkland & Ellis LLP, where he was also co-head of the firm's Washington, D.C. office. Prior to that, he served as General Counsel and Senior Policy Advisor for the White House Office of Management and Budget during the George W. Bush administration. Rosen also served as General Counsel in the Department of Transportation.
Rosen worked at Kirkland & Ellis for more than 20 years and was an adjunct professor at the Georgetown University Law Center. He has a B.A. from Northwestern University and a J.D. from Harvard.
Rosen's confirmation hearing takes place as his potential boss, Attorney General William Barr, testifies before a Senate appropriations subcommittee. This is the second day that Barr has faced questions from lawmakers regarding his handling of Special Counsel Robert Mueller's Russia report.
Barr has said that he plans on releasing a redacted version of the report next week, but Democrats are pushing for an unredacted version. Barr said he cannot reveal secret grand jury information, and cited a recent D.C. Circuit Court decision that said courts don't have the authority to order such disclosure unless specific exceptions apply.
[Image via Senate Judiciary Committee screengrab]
Have a tip we should know? [email protected]