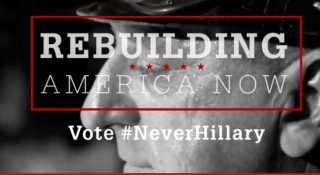 The Campaign Legal Center, a non partisan Washington D.C. based group, filed a complaint with the Federal Elections Commission alleging that a pro-Donald Trump super PAC, Rebuilding America Now, accepted a large donation from a private prison company, which does business with the federal government. Government contractors have long been prohibited from making political donations. According to the Campaign Legal Center, GEO Corrections Holdings donated $100,000 to Rebuilding America Now just one day after the Obama administration announced they would likely be phasing out federal private prison contracts.  Trump has apparently come out supporting the industry.
"I do think we can do a lot of privatizations and private prisons," Trump said during a June interview with MSNBC's Chris Matthews. "It seems to work a lot better."
"Contrary to these frivolous and baseless claims, this contribution was made by Geo Correction Holdings, Inc., a non-contracting legal entity, and is therefore fully compliant with all applicable federal election laws," said Pablo Paez, a GEO spokesperson.
"It is obvious GEO has a personal interest at stake this election," said Brendan Fischer, associate counsel of the Campaign Legal Center in a statement. "One day after the Obama administration announced it would be ending GEO's contracts, the company spent $100,000 to support the one presidential candidate likely to reinstate those contracts. It's for this exact reason why we have the federal contractor ban in place. Officials are supposed to make contracting decisions based on what's best for the public, not based on what's best for their big money backers."
Shortly after Obama made his announcement, Corrections Corp. of America and GEO's stock both plunged more than 40 percent in midday trading. Interestingly, the announcement does not affect state contracts, ICE and U.S. Marshal contracts.
We've reached to GEO Corrections and Rebuilding America Now for comment. We will update accordingly.
Editor's Note: This story was updated with a statement from GEO. 
READ COMPLAINT: 
11-01-16 Rebuilding America Now Contractor Complaint by LawNewz on Scribd
Have a tip we should know? [email protected]
Rachel Stockman - Editor in Chief / On Air Host