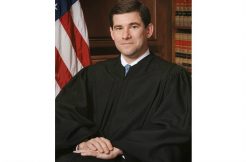 President-elect Donald Trump met with federal Judge William Pryor on Saturday about a possible seat on the U.S. Supreme Court, Above The Law reports. Then-candidate Trump publicly floated his name almost as soon as Justice Antonin Scalia, 79, passed away in February. The PEOTUS's shortlist grew to be as long as 21 names, and is now down to 20.
If Pryor ends up being the final choice, it'd be another controversial right-wing pick for the next administration. He has served on the U.S. Court of Appeals for the Eleventh Circuit since 2004, and as revealed in confirmation hearing testimony, he called Roe v. Wade, which established a right to abortion under the 14th Amendment, "the worst abomination in constitutional law in history." It's also worth mentioning that he became Attorney General of Alabama in 1997 right after predecessor Jeff Sessions, a controversial Trump pick for U.S. Attorney General, left for the U.S. Senate.
We reached out to a Trump spokeswoman for more details on the meeting.
During a Wednesday press conference, the president-elect announced he'd nominate someone to the Supreme Court within two weeks of taking office on Jan. 20. This person, if confirmed, would fil a long-standing gap on the bench. The Republican-controlled Senate have balked at even holding hearings for President Barack Obama's pick, Judge Merrick Garland. Majority leader Sen. Mitch MConnell (R-Kentucky) said that they wanted to wait under after the general election so Scalia's replacement better reflects the voters' will. This move has been criticized as self-serving political maneuvering.
There's a chance Trump could shape the Supreme Court for decades to come. Three of the eight remaining justices are at least age 78: liberal Ruth Bader Ginsberg, liberal Stephen Breyer, and famed "swing-voter" Anthony Kennedy.
Rachel Stockman contributed to this report.
Update – Jan. 17, 3:13 p.m. ET: An earlier version of this article said that Pryor worked on the Seventh Circuit. He actually works on the Eleventh.
[image via U.S. Government]
Have a tip we should know? [email protected]