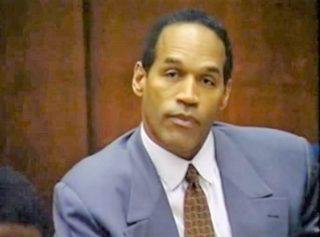 Sunday night, Investigation Discovery aired the first two episodes of their new miniseries, Is O.J. Innocent? The Missing Evidence. The three-night event follows private investigator William Dear, author of 2012's O.J. is Innocent and I Can Prove It, as well as LAPD forensic psychologist Dr. Kris Mohandie and Rhode Island police sergeant Derrick Levasseur, as they take a fresh look at the murders of Nicole Brown Simpson and Ron Goldman. In the first night, the show jumped right into Dear's apparent theory: O.J. didn't kill his wife, his son Jason did.
Now, if the concept of a TV special rehashing a decades-old case and casting suspicion on an old suspect's son sounds familiar, it should. Just last year, CBS aired a miniseries where investigators looked at the JonBenet Ramsey murder case, speculating that JonBenet's brother Burke may have killed his sister. JonBenet's parents had once been suspects but were eventually exonerated by the Boulder County District Attorney.
CBS is now in hot water for their case, facing a $750 million lawsuit from Burke. Might Jason Simpson take the same route? It's possible, but Investigation Discovery is at least trying to cover their bases by not flat out looking to convict O.J.'s son in the court of public opinion.
"We are always looking to bring balanced storytelling to all of the shows we do," the channel's general manager Kevin Bennett said to The Hollywood Reporter. "So we were taking every precaution as soon as we began work on this series." So far, the show is pointing out that whatever theories the investigators in the show put forward are just that — their theories. Narrator Martin Sheen tells viewers to come to their own conclusions after hearing what's presented. "Whenever we deal with a case like this, we have to be very cautious about not trying someone on television," Bennett said. By making it clear that the Jason Simpson theory is just an opinion, they at least afford themselves a degree of protection from a defamation claim. But with two nights left in the miniseries, it's too soon to tell how effectively they do this.
According to the show, they did try to get a statement from Jason Simpson, but were unsuccessful. It remains to be seen whether O.J.'s son will respond — in the press or in the courtroom — after the series concludes on Tuesday. The next part airs Monday night at 9:oo pm ET.
[Image via screengrab]
Have a tip we should know? [email protected]