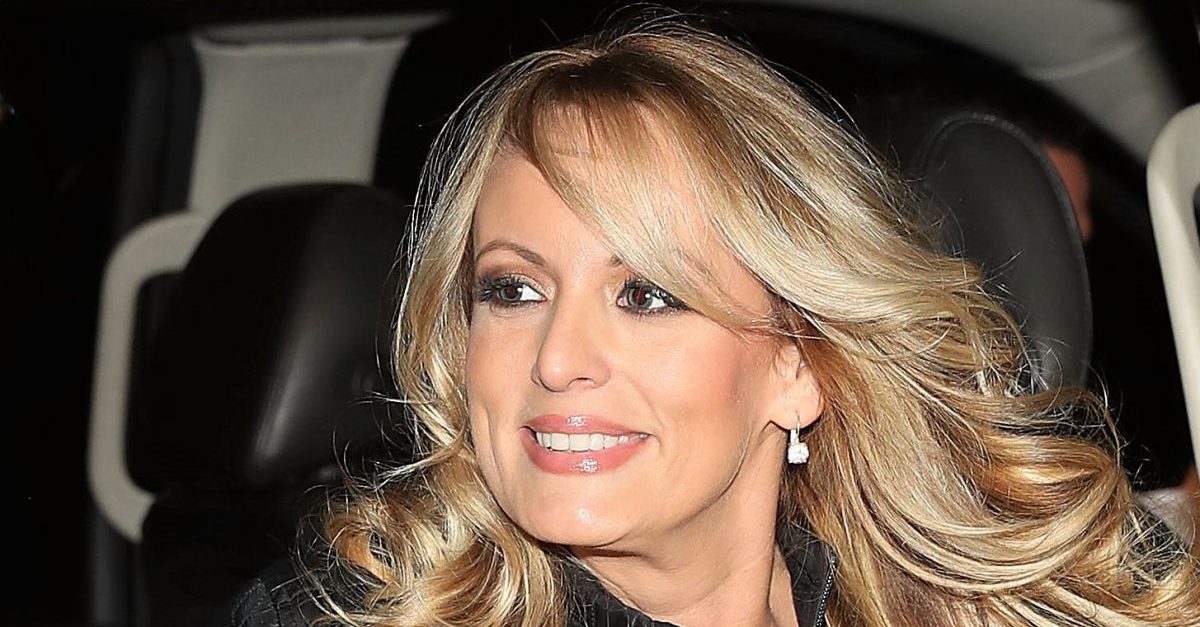 President Donald Trump and his legal team are fighting back against Stormy Daniels' defamation case against him. Trump's lawyer Charles Harder made several arguments as to why Daniels' case has no merit, including the fact that she can't prove that she suffered any harm due to Trump's statement when she's really been making tons of money off of their legal battle.
"Plaintiff has not pleaded and cannot prove that she suffered any damages as a result of the tweet," Harder wrote in a Monday court filing. "Plaintiff has capitalized on her dispute with the President, embarking on a nationwide tour of adult live entertainment venues (a.k.a., strip clubs) for which she admittedly is being paid at least four times her normal appearance fee because of her public controversy with the President."
Harder noted that the attention Daniels' lawyer Michael Avenatti has received from the case has led to him consider a future presidential campaign, and claimed that Daniels received "massive publicity" from appearances on 60 Minutes, The View, and Saturday Night Live.
Of course, those appearances were not the result of the defamation case, but were sparked by Daniels' other lawsuit over her hush agreement regarding her allegations of an affair with Trump in 2006. The defamation case stemmed from Trump's reaction to Daniels' appearance on The View, in which she and Avenatti showed a forensic sketch of a a suspect who allegedly threatened to harm Daniels in 2011 if she didn't stop talking about Trump (she had recently given an interview to InTouch Magazine).
After Daniels and Avenatti showed the image to the live and television-viewing audience, Trump tweeted about it, saying it was a sketch of a "non-existent man" and a "total con job." Daniels' defamation suit is based on this attack on her credibility.
A sketch years later about a nonexistent man. A total con job, playing the Fake News Media for Fools (but they know it)! https://t.co/9Is7mHBFda

— Donald J. Trump (@realDonaldTrump) April 18, 2018
Besides claiming a lack of damage, Harder claims that Daniels has not shown that Trump showed "actual malice" in his tweet. This means knowledge that a statement is false or reckless disregard for whether it's true. Actual malice is needed in cases involving defamation of a public figure.
Harder also argues that the tweet is protected speech because 1) it's an opinion and 2) was "made in connection with a matter of public concern," and therefore protected by state anti-SLAPP laws (SLAPP stands for strategic lawsuits against public participation). California, where the lawsuit is located, has such a law. Texas also has such a law, and Harder argues that Texas law should apply here because that's where Daniels was living at the time. Harder claims that because Trump's tweet was in reference to a matter involving him, and he's president, that qualifies as a matter of public concern.
Daniels, on the other hand, has argued that Trump's tweet was not a statement of opinion, but a statement purported to be fact in its claim that the and Avenatti carrying out a "con job." If she could show that not only was the threat against her real, but that Trump knew about it at the time he posted his tweet, she could show that Trump made the statement knowing it was false.
As for Avenatti, he told Law&Crime that Harder's attacks are "As baseless as his clients' attacks on John McCain."
[Image via Joe Raedle/Getty Images]
Have a tip we should know? [email protected]