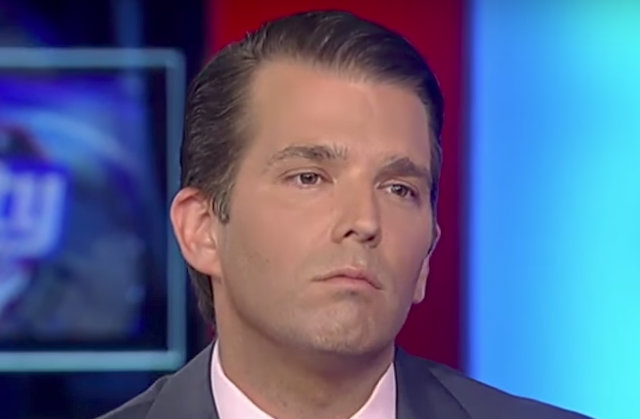 Donald Trump Jr. told Senate investigators on Thursday about his infamous June 2016 meeting with a Russian lawyer: He wanted to learn about Hillary Clinton's "fitness" to be president, according to a New York Times report.
"To the extent they had information concerning the fitness, character or qualifications of a presidential candidate, I believed that I should at least hear them out," he said in a prepared statement. "Depending on what, if any, information they had, I could then consult with counsel to make an informed decision as to whether to give it further consideration."
He claimed to have gotten "no meaningful information" from the meeting.
U.S. intelligence officials say the Russian government interfered in the 2016 election to help Junior's dad Donald Trump Sr. A special counsel and several congressional committees are investigating alleged collusion between the Kremlin and the president's campaign.
Junior's meeting with the lawyer, Natalia Veselnitskaya, garnered a lot of attention in part because he changed his story and because the lawyer was reportedly linked to the Kremlin. When the Times first reached him about the meeting in early July, he said it was just about an international adoption program. Long story short, he eventually released the emails in which the meeting was set up. These showed that he was promised that this was part of the Russian government's support for his father.
It's unclear if Trump Jr. violated any laws.
[Screengrab via Fox News]
Have a tip we should know? [email protected]