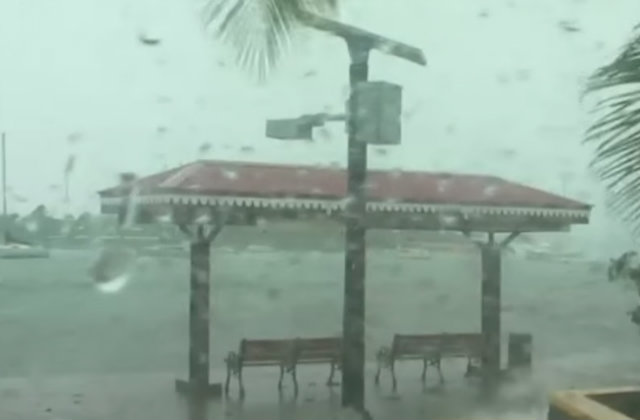 The National Rifle Association threatened legal action on Tuesday after Virgin Islands Governor Kenneth Mapp authorized the National Guard to confiscate guns and ammo ahead of Hurricane Irma.
"People need the ability to protect themselves during times of natural disaster," said Chris W. Cox, executive director of the National Rifle Association Institute for Legislative Action. "This dangerous order violates the constitutional rights of law-abiding citizens and puts their lives at risk." 
This comes after Mapp authorized the National Guard on Monday.
In accordance with Title 23 Section 1522, Virgin Islands Code, The Adjutant General is authorized and directed to seize arms, ammunition, explosives, incendiary material and any other property that may be required by the military forces for the performance of this emergency mission, in according with the Rules of Force promulgated by the Virgin Islands National Guard and approved by the Virgin Islands Department of Justice.
Yes, Title 23 Section 1522 of the Virgin Islands Code allows the governor to authorize the National Guard to seize guns, ammo and the like. The law requires the government to pay back citizens for any private property that was lost, damaged, or destroyed.
Professor Adam Winkler, a Second Amendment expert at UCLA Law, told Law Newz that this power is actually common, and similar provisions can be found in state law nationwide.
"It is basic to emergency powers," he said, explaining that this goes back to the founding of the country. He said there has never been a Supreme Court case over the issue. That said, he argued that Second Amendment advocates were correct to point out the flaw in this kind of law since authorities wouldn't be around to help people during a storm.
"A firearm can be an important element to self-defense," he said.
The NRA and the Second Amendment Foundation settled with the New Orleans Police Department in 2008 over gun confiscation during Hurricane Katrina.
"Only law enforcement are allowed to have weapons," said Police Chief Eddie P. Compass III at the time of the 2005 storm, announcing that civilians could not carry firearms at any time. Cops later claimed they took 552 guns after Katrina–all stolen or discovered in abandoned homes.
On Tuesday, Irma became the strongest recorded hurricane ever in the Atlantic Ocean. It reached the Virgin Islands the next day.
Update – September 7, 1:20 p.m. EST: Added a quote from UCLA Law Professor Adam Winkler.
[Screengrab via Earth Cam]
Have a tip we should know? [email protected]