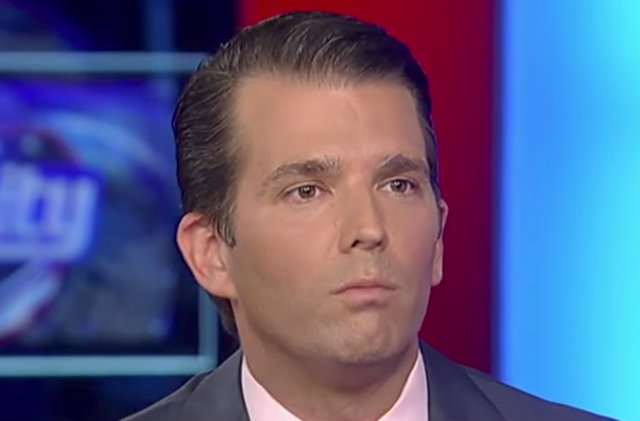 Donald Trump Jr.'s attorney Alan Futerfas is demanding that the House Intel Committee investigate leaks to the media. This stems from Jr.'s Wednesday private interview with Congressmen about their probe into Russian interference in the 2016 election.
"In advance of the Interview, Mr. Trump Jr. and his counsel were assured by this Committee that, in accordance with its rules of procedure (the "Rules"), the Interview would be kept strictly confidential and not discussed publically [sic] unless the full Committee voted to release the transcript," Futerfas wrote.
He accuses Committee members "and/or" staff of selective leaks to the media during and after the media. This resulted in some reporting by CNN, he said. He also took shots at ranking House intel member Rep. Adam Schiff (D-California 28th District), Rep. Jackie Speier (D-California 14th District), and Rep. Eric Swalwell (D-California 15th District, who made appearances on the news.
"In an attempt to discredit my client, they did not accurately portray the breadth, scope and substance of the Interview," Futerfas claimed.
A spokesman for Schiff denied that allegation.
"Ranking Member Schiff and his staff do not leak classified or confidential information, and any disclosure of non-public information by the congressional committees undertaking investigations is singularly unhelpful," wrote Patrick Boland in an emailed statement to Law&Crime. "It is imperative that all investigations into Russia's covert political interference campaign operate with appropriate discretion and refrain from publicizing information for short-sighted political gain."
He added, "At the same time, we do not permit witnesses to represent publicly that they are fully cooperating with our committee and privately refuse to answer questions pertinent to our investigation on the basis of meritless claims of privilege. When the Attorney General and Donald Trump Jr. did so, we raised the issue publicly and will continue to do so. While we do not discuss the substance of a witness' testimony, we do reserve the right to inform the public of their noncooperation and do not allow them to conceal that behind closed doors."
Spokespeople for Speier and Swalwell did not immediately respond to a Law&Crime request for comment.
Futerfas in particular harped on CNN's inaccurate story about Trump Jr. and WikiLeaks. The outlet originally reported that according to sources, Jr. got a Sept. 4 email pointing him toward hacked documents published on WikiLeaks. But the email ended up being from Sept. 14, apparently showing that the writer, who called himself Michael Erickson, seemed to be describing information that was already publicly available. This correction embarrassed the outlet, and provided Jr.'s father, the president, more ammunition regarding "Fake News."
[Screengrab via Fox News]
Have a tip we should know? [email protected]