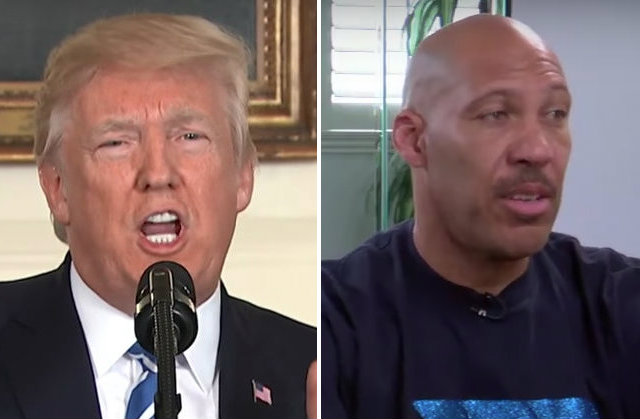 Guys, it happened: President Donald Trump is in a feud with with LaVar Ball, and it has us asking legal questions.
Now that the three basketball players are out of China and saved from years in jail, LaVar Ball, the father of LiAngelo, is unaccepting of what I did for his son and that shoplifting is no big deal. I should have left them in jail!

— Donald J. Trump (@realDonaldTrump) November 19, 2017
Our Tweeter-in-Chief lashed out on Twitter Sunday after Ball, a businessman and ex-basketball player, downplayed POTUS' role in helping release son LiAngelo Ball from Chinese custody.
"I should have left them in jail," Trump wrote. That's a hell of thing to tweet, and it grabbed a lot of attention. Outlets like Mediaite, The NY Times, Fox News, and ESPN were all over it. But as with many things in this administration, it's always helpful to review a president's role in situations like this.
To recap, we have three Americans–UCLA basketball players LiAngelo Ball, Jalen Hill and Cody Riley–arrested by Chinese authorities for alleged shoplifting. Trump took credit for their return to the states, saying he asked the country's president Xi Jinping for help. Now we have that same president saying he should've done nothing.
What does it mean if provable spite motivated a president's decision to refrain from helping an American held in custody on foreign soil? Law&Crime reached out to Harvard Law Professor Noah Feldman for his take on the matter, and asked if such behavior, or something like it, could be impeachable.
"Not impeachable," Feldman wrote in an email. "He was under no duty to help and no duty to be nice about it after the fact."
Still, Trump's tweet wasn't something presidents usually say.
"It's highly unusual because 1. Leaders don't usually acknowledge that they personally intervened to help Americans accused of crimes abroad," wrote Feldman, a Constitutional law and foreign relations expert. "2. It is highly unusual for the president to express resentment for lack of individual appreciation; and 3. Trump is making himself look foolish vis a vis China. But none of this is even colorably impeachable."
[Screengrab of Trump via MSNBC; Ball via ESPN]
Have a tip we should know? [email protected]