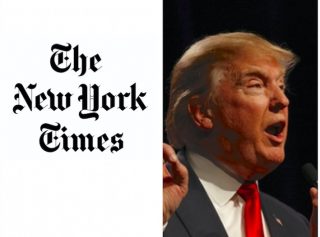 Just about a week after winning the presidential election, Donald Trump went on another twitter storm against The New York Times calling them "fools." That's actually one of his kinder phrases for them.
The failing @nytimes story is so totally wrong on transition. It is going so smoothly. Also, I have spoken to many foreign leaders.

— Donald J. Trump (@realDonaldTrump) November 16, 2016
Australia, New Zealand, and more. I am always available to them. @nytimes is just upset that they looked like fools in their coverage of me.

— Donald J. Trump (@realDonaldTrump) November 16, 2016
Over the last year, The New York Times has become one of Trump's favorite punching bags exemplifying everything that is wrong with the liberal media. Last month, he even pledged to take legal action against the newspaper for their "false" news story providing details from women who accused Trump of sexually assaulting them.  That was a month ago.. So I can't help but ask Mr. Trump, whatever happened to that lawsuit that your attorneys were "drafting" up? At the time, multiple news outlets reported that the lawsuit was "imminent." Yeah right. 32 days and counting.  I've known PhD students to write dissertations in less time.
So, what the heck happened? Perhaps, Trump's lawyer, Mark Kasowitz, got cold feet, or actually got the President-elect to realize that he has absolutely no case against the newspaper.  Or maybe he brought up that fact that if he went forward with the suit, Trump would expose himself to some painful and potentially embarrassing discovery.
Back in October LawNewz.com founder Dan Abrams said: "I am willing to bet anything that either Trump won't sue, or if he does, he will later withdraw the suit. He simply can't have this case go into discovery where he would have to answer all sorts of questions, much less a trial. And he won't." And, now, that he's been elected, the situation would be even worse.
On the same day the Times article was published, Trump's attorney wrote a demand for a retraction.  "We hereby demand that you immediately cease any further publication of this article, remove it from your website and issue a full and immediate retraction and apology," Kasowitz said in his letter to the Times.
Shortly after Trump's demand letter, David McCraw, an attorney for the New York Times, wrote a "come and get us" response, which has since gone viral.
Trump promised he would come forward with evidence that the two women in the piece were not telling the truth. So what's this proof that Jessica Leeds, the woman who says she was assaulted on a plane, is lying? The Trump campaign offered up a British man who claims he was sitting across from the accuser on the plane ride in the 1980s. Anthony Gilberthorpe told The New York Post that Leeds was all over Trump and that "she wanted to marry him." Only thing, this "witness" also had a bit of a troubled history himself. He, apparently, once admitted to supplying underage age boys to British politicians.
The bottom line: I don't know what happened with these women, and whether they are telling the truth. But I do know that Trump was bluffing when he promised to file a lawsuit, like he has done about many things throughout his campaign. The lawsuit was never filed because one was never being drafted.
The troubling thing is that media outlets are taking the bait, and are rarely actually following up. What's more, he was elected, so it appears that bullying tactic works to fool the American people as well.  Even more disturbing, others seem to have caught on that this kind of "PR" stunt is quite effective. Just yesterday, Breitbart.com leaked to the media that they were planning to file a lawsuit against a"major media company" for calling them "White Supremacists." I don't know if they will follow through on that threat (doubtful), but it certainly sent a chill through certain news organizations.  As for Mr. Trump, it seems his threat worked as well! We all got played!
A version of this article was first written last month, but has been updated now that Trump won, and clearly is not planning to follow through on his promise to sue The New York Times. 
This is an opinion piece. The views expressed in this article are those of just the author.
Rachel Stockman - Editor in Chief / On Air Host