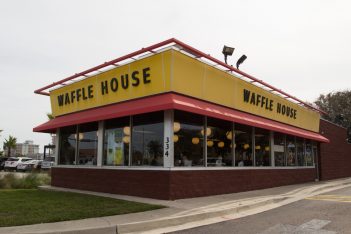 A female student claims she was enjoying late night bite to eat on Saturday at a Waffle House near the University of Georgia campus when her meal was allegedly interrupted by a group of males sitting in an adjacent booth.
According to a police report obtained by the website OnlineAthens.com, the 22-year-old female student told officers she heard the group seated behind her making insensitive comments, so she turned around to face the men.
After turning around, the female student told police one of the men told her "he was going to grab (the female student) by the pussy."
That phrase, of course, became well known last month after an Access Hollywood tape from 2005 was leaked to the Washington Post that included President-elect Donald Trump making crude remarks and boasts about his alleged sexual exploits with women.
The officer said he confronted the men sitting in the booth nearest to the female student, but they all denied making the remark.
Although, one of the men reportedly did tell the officer they were "having a having a conversation about the president-elect, Donald Trump, and (the female student) may have taken offense."
Unable to determine whether a crime had been committed, the officer left the restaurant and no charges were filed.
Nonetheless, the executive director Project Safe, an Athens, GA based domestic violence agency, suggested the alleged incident still constitutes a form of verbal assault and stressed that people should be more aware of how "traumatizing" their words may be to others.
[image via Rob Wilson/shutterstock]
Have a tip we should know? [email protected]