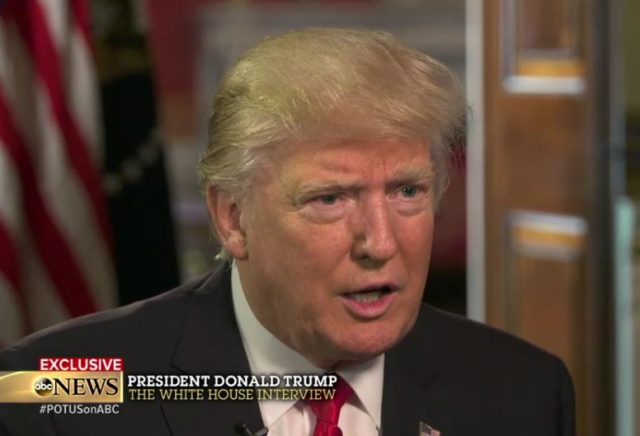 During Donald Trump's interview with ABC's David Muir that aired Wednesday, the President addressed gun violence in Chicago, saying the city "is like a war zone." This was after he had tweeted on Tuesday that he would "send in the feds" if the city couldn't take care of itself.
If Chicago doesn't fix the horrible "carnage" going on, 228 shootings in 2017 with 42 killings (up 24% from 2016), I will send in the Feds!

— Donald J. Trump (@realDonaldTrump) January 25, 2017
Trump then gave an example, saying that "when President Obama was there two weeks ago making a speech, very nice speech. Two people were shot and killed during his speech. You can't have that." Trump soon clarified by saying, "They weren't shot at the speech. But they were shot in the city of Chicago during his speech." That part of the interview didn't air on television, but was part of a transcript of the interview posted by ABC News.
That's a startling revelation, but according to The Chicago Tribune, it's completely false. The Tribune dug into Chicago police reports from the time of Obama's speech on January 10, and records showed that not only were there no shooting deaths during that time, there were no shootings at all. One person was reportedly shot 20 minutes after the speech, but he survived.
The White House did not respond to the Tribune's request for comment.
[Image via ABC screengrab]
Have a tip we should know? [email protected]