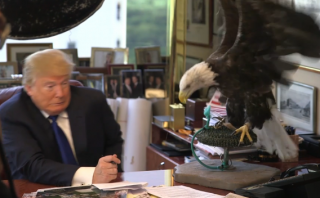 Donald Trump is being sued…again. After a sexual assault claim (withdrawn by the plaintiff), a claim against his modeling agency (dismissed by a judge), Trump University (still ongoing) , and many others, now The Donald's presidential campaign is accused of copyright infringement over use of a bald eagle image.
Photographers Robert Rozinski and Wendy Shattil are claiming that Trump's campaign was using a photograph they own that Rozinski took of an eagle for promotional materials without permission, according to the New York Daily News. They first noticed the alleged use of the image on February 9, during media coverage of the New Hampshire primary. They claim they saw a person at a rally holding a sign bearing the eagle portrait, and then learned it was being used on Trump merchandise.
Rozinsky is confident that the eagle image in question is his, due to its distinct nature. "It would be difficult, as perhaps an understatement, to recreate such an image given the challenge of replicating and capturing such a fleeting moment in nature," the suit says.
They claim that Trump's unauthorized use of the image has created an "epidemic of third-party infringement," The Hollywood Reporter says, encouraging others to print their own signs with the eagle on it.
Trump representatives have yet to comment.
[h/t The Hill screengrab via Time.com]
Have a tip we should know? [email protected]