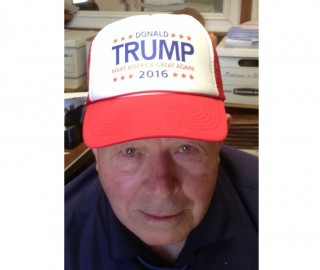 Further proof that Donald Trump is unstoppable. Even Ed Bals, the 81-year-old man suing Trump's company after he got canned at Trump National Golf Club Colts Neck says he'd vote for Trump.
"The only way I can explain it is I don't think Mr. Trump knew what happened, because if he did, I wouldn't have been relieved, he's that type of person," Ed Bals told USA Today. "I don't have a grudge against him."
Bals sued Trump in federal court in 2014. He was the manager of the upscale men's locker room at the New Jersey club when he was fired (at the age of 77). Bals now works as a taxi driver. In the lawsuit, he claims each year before he was terminated, he was given a bonus for "exemplary work" and maintained an "excellent friendship with the golf course members."
So why vote for Trump after all this?
"I've voted for all sorts of people, but I feel like the other politicians have all BS'd us and have us upset," Bals told USA Today. "I'm a traditionalist, and saw WWII, and saw what the country stood for then."
Bals said he ran into Trump a few times at the club, and admired him for bringing the golf course back from financial turmoil. In the lawsuit, Bals is seeking to get his job back, damages and attorney's fees. As you've heard before, Trump says he doesn't like to settle. But, maybe, just maybe, on this one. he'll make an exception.
[h/t USA Today]
[Picture via Bals' attorney, John Brennan Jr.]
Have a tip we should know? [email protected]
Rachel Stockman - President / On Air Host