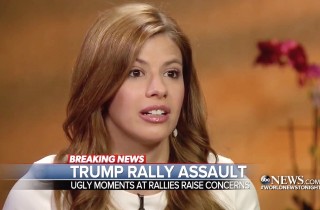 Donald Trump's  campaign manager, Corey Lewandowski was charged on Tuesday with simple battery of a reporter at a press event that took place on March 8. Michelle Fields, who worked for Breitbart.com at the time, filed a report with the Jupiter, Florida police, alleging that Lewandowski grabbed her arm when she was asking Trump a question.
JUST IN: Trump campaign manager Corey Lewandowski charged in alleged battery of Breitbart reporter.

— ABC News Politics (@ABCPolitics) March 29, 2016
Under Florida law (specifically Title XLVI, section 784.03(1)(a)1)), battery is when a person "[a]ctually and intentionally touches or strikes another person against the will of the other." While it may not sound like much, grabbing a person's arm would technically satisfy that definition. Battery is a first degree misdemeanor that carries a maximum punishment of one year in jail.
Lewandowski had denied the allegations on social media after the initial accusation.
@MichelleFields you are totally delusional. I never touched you. As a matter of fact, I have never even met you.

— Corey Lewandowski (@CLewandowski_) March 11, 2016
Trump himself denied everything at the time.
Trump denies alleged assault by @CLewandowski_ pic.twitter.com/UNQuW2mSaB

— Independent Journal (@Independent_Pol) March 11, 2016
In response to the denials, Fields also took to Twitter, posting a picture of bruises.
I guess these just magically appeared on me @CLewandowski_ @realDonaldTrump. So weird. pic.twitter.com/oD8c4D7tw3

— Michelle Fields (@MichelleFields) March 10, 2016
Update 3/29/16 11:32am: A copy of the police report has been posted online by Wesley Lowery of the Washington Post.
The text of the arrest report for Trump campaign manager Corey Lewandowski, charged with battery of @MichelleFields pic.twitter.com/qWF03nage5

— Wesley Lowery (@WesleyLowery) March 29, 2016
Update 3/29/16 11:41am: CNN reports that Trump spokesperson Hope Hicks released a statement, saying:
Mr. Lewandowski is absolutely innocent of this charge. He will enter a plea of not guilty and looks forward to his day in court. He is completely confident that he will be exonerated.
Have a tip we should know? [email protected]