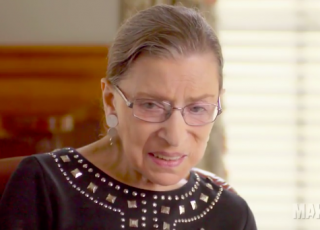 In a late night tweet, Donald Trump went on the offensive against U.S. Supreme Court Justice Ruth Bader Ginsburg who has come out against him in recent days.
Justice Ginsburg of the U.S. Supreme Court has embarrassed all by making very dumb political statements about me. Her mind is shot – resign!

— Donald J. Trump (@realDonaldTrump) July 13, 2016
Ginsburg spoke out from her chambers to critique Congress' failure to act on the Supreme Court nominee and blast presidential hopeful Donald Trump in a recent article in The New York Times. 
"I can't imagine what this place would be — I can't imagine what the country would be — with Donald Trump as our president," she told the Times' Adam Liptak.
In another interview with Joan Biskupic with CNN, Ginsburg went even further stating: "He is a faker. He has no consistency about him. He says whatever comes into his head at the moment. He really has an ego. … How has he gotten away with not turning over his tax returns? The press seems to be very gentle with him on that."
Ginsburg has come under fire from many legal scholars who have called her speaking out 'unethical.' The New York Times editorial board ran a scathing piece blasting Ginsburg for her comments and comparing them to what Trump did with federal judge Gonzalo Curiel:
All of which makes it only more baffling that Justice Ginsburg would choose to descend toward his level and call her own commitment to impartiality into question. Washington is more than partisan enough without the spectacle of a Supreme Court justice flinging herself into the mosh pit.
Interestingly, the headline for the editorial is "Donald Trump is Right about Ruth Bader Ginsburg." We are guessing the editorial board went to print before his latest twitter comment calling for her resignation.
Have a tip we should know? [email protected]
Rachel Stockman - President / On Air Host