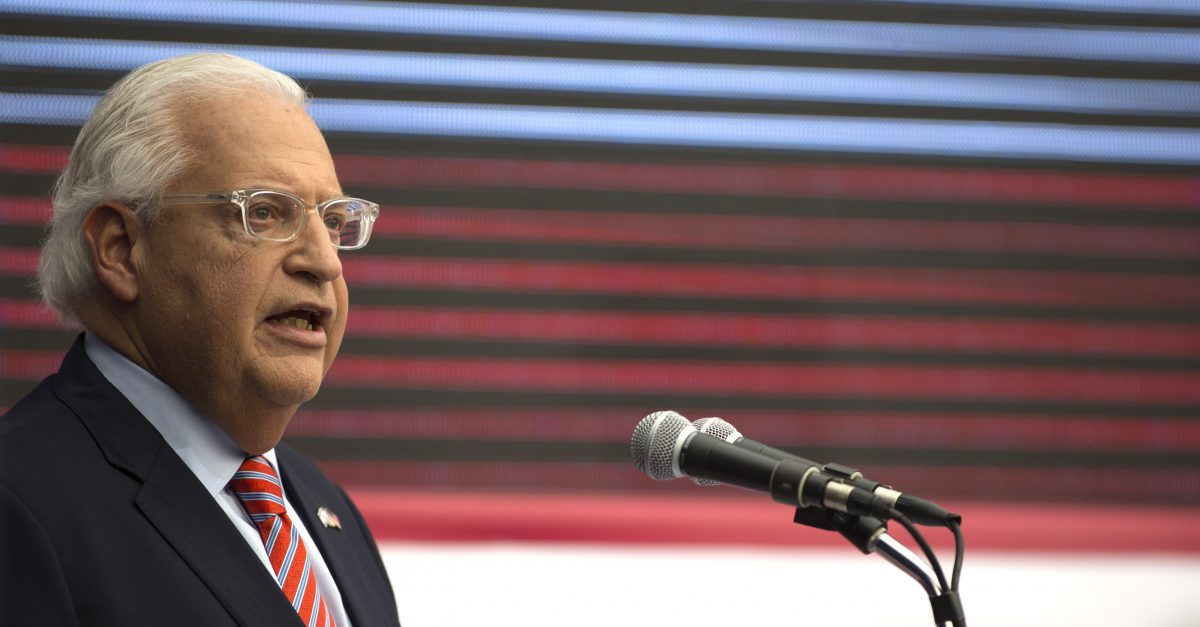 EDITORS NOTE: After the below article was published, the source of its information–an article from the Jewish Telegraphic Agency–was updated to reflect that while the Qomemiyut organization to which Friedman's American Friends of Bet El Yeshiva Center bears the same name as a group on the U.S. State Department's designated terrorist list, it is NOT the same organization (the terror group was apparently added to the State Department's list seven years before this Qomemiyut was even founded). The JTA explained that the current Qomemiyut director misunderstood a question when he appeared to confirm that it was the same organization, but later told the Israeli news service Arutz Sheva that these are two unrelated organizations.
---
President Donald Trump's hand-picked ambassador to Israel was the president of a charity when it allegedly donated tens of thousands of dollars to a far-right terrorist group based in the Middle East.
According to a Friday report by the Jewish Telegraphic Agency, David Friedman led the American Friends of Bet El Yeshiva Center (also known as American Friends of Bet El Institutions) when it donated some $12,000 to the Qomemiyut Movement, a U.S. State Department-designated terrorist organization more commonly known by its prior name, Kahane Chai.
An article in Israel's paper of record, Haaretz, pegged the amount of funds donated by Friedman's group to Qomemiyut quite a bit higher: roughly $93,000 between 2008 and 2013. The payments were originally noted by anti-racist Israeli NGO Democratic Bloc.
Based on the ideology and personality cult of anti-Arab Rabbi Meir Kahane, Kahane Chai and its associated fellow travelers support de jure and de facto discrimination against Arabs living in Israel, the revocation of Israeli citizenship for those not of Jewish descent and a ban on Jewish-Gentile intermarriage and sexual relations, in line with a fundamentalist interpretation of scripture.
On February 25, 1994, Baruch Goldstein, a friend and political adherent of Kahane's, opened fire on dozens of Palestinian Muslims while they were praying inside of the Ibrahimi Mosque at the Cave of the Patriarchs in the city of Hebron. Goldstein's assault took 29 lives and wounded 125 others–including many children–before he was beaten to death by survivors. Kahane's movement expressed support for this attack and was subsequently outlawed in Israel.
After being outlawed as a political party, the group turned to terrorism and has been on the U.S. State Department's official list of terrorist organizations since 1997 where it is listed as the "Qomemiyut Movement." In 2013, when Qomemiyut was clearly listed as a terrorist group on that same government watch list, Friedman's organization made the $12,000 donation–in shekelim–to the group.
In 2005, the Canadian government listed Kahane Chai as a terrorist organization as well. A similar designation was then made by the European Union in 2009. Ahead of the curve on all counts, Israel itself designated all Kahane-affiliated groups as terrorist organizations in 1994–after the Goldstein massacre–and many of the group's leadership eventually spent time in Israeli jails.
In 2016, Friedman donated a total of $50,000 to Donald Trump's presidential campaign and the Republican National Committee. During the campaign, Friedman advised Trump on issues related to Israel. Prior to the presidential campaign, Friedman was Trump's personal bankruptcy lawyer.
Trump said, of Friedman's appointment, "I put one of my friends as ambassador to Israel, David Friedman, good choice, one of the great lawyers of our country, made a lot of money as a lawyer."
In response to questioning by Israeli journalists, Friedman's office released the following statement to Israel's paper of record, Haaretz, "The Ambassador is not familiar with the Qomemiut Foundation, nor is he aware of any connection between those entities and American Friends of Bet El Yeshiva Center."
Democratic Bloc's spokesperson Ran Cohen said:
[T]he president of a foundation bears responsibility far beyond an honorable title and gala dinners. Throughout his years as president of Friends of Beit El Yeshiva, Friedman enjoyed full credit for the foundation's activity and reaped public benefits from it. Just as he took credit for its successes, he must now take responsibility for its support for neo-Kahanism and for racism.
The White House did not respond to repeat requests for comment.
[Image via Lior Mizrahi/Getty Images]
Follow Colin Kalmbacher on Twitter: @colinkalmbacher
Have a tip we should know? [email protected]