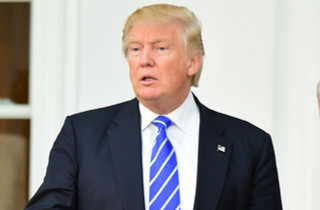 New York State Attorney General Eric Schneiderman may have settled his administration's lawsuit against Donald Trump and Trump University, but that doesn't mean he's a pushover. On Monday night, news broke that he got a written assurance from Trump's counsel that the President Elect will not repeat history and use funds from his non-profit Donald J. Trump Foundation to fund the settlement.
The Washington Post reports that Alan Garten, The Trump Organization's general counsel, wrote in the letter that "no part of the funding of my clients' settlement of the New York Attorney General Action or the California Actions will come from any charitable foundation or other charitable entity." Amy Spitalnick, a spokeswoman for Schneiderman's office, confirmed the story to WaPo, writing in a statement that they asked for the reassurance "given Mr. Trump's reported history of using his charity's money to fund his and his businesses' legal settlements."
Reports came out during the campaign that Trump spent over $250,000 of his foundation money to settle lawsuits against him and his companies. The Trump campaign replied to the report with a statement that largely tried to change the topic to accusations against the Clinton Foundation, but also included this denial:
There was not, and could not be, any intent or motive for the Trump Foundation to make improper payments. All contributions are reported to the IRS, and all Foundation donations are publicly disclosed. Mr. Trump is generous both with his money and with his time. He has provided millions of dollars to fund his Foundation and a multitude of other charitable causes.
[Photo: Shutterstock]
Have a tip we should know? [email protected]