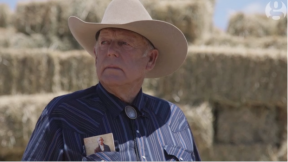 Cliven Bundy may have sealed his fate with his latest anarchist antics, and an ill-advised flight to Portland. The infamous Nevada Rancher now finds himself in dire legal trouble. After flying to Portland to protest the detention of his sons, Ammon Bundy, 40, and Ryan Bundy, 43, for their armed takeover of the Malheur National Wildlife Refuge, the patriarch was apprehended by the FBI, waiting to take him into custody.
A federal judge has ordered Bundy to remain in custody pending trial based on a complaint dating back to his media-hyped 2014 standoff with federal authorities. Bundy burst into the public spotlight with inflammatory racial comments and an immutable stance that his cattle should not face any grazing restrictions, despite federal law prohibiting grazing on public lands.
U.S. Magistrate Judge Janice M. Stewart determined that Bundy is a flight risk for his "ongoing defiance of federal court orders." It runs in the family. Stewart agreed with the government's contentions that his release might mean it's "the last we see of him."
The U.S. filed a six-count federal complaint charging Bundy with conspiracy to commit an offense against the U.S., assault on a federal law enforcement officer, obstruction of justice, interference with commerce by extortion and two counts of carrying a firearm in relation to a crime of violence.
If the government's pre-trial motion is any indication, the U.S. is unlikely to relent in their pursuit of the charges against Bundy. The motion, filed by Assistant U.S. Attorney Steven W. Myhre, said this about the 69-year-old:
Bundy is lawless and violent. He does not recognize federal courts – claiming they are illegitimate – does not recognize federal law, refuses to obey federal court orders, has already used force and violence against federal law enforcement officers while they were enforcing federal court orders, nearly causing catastrophic loss of life or injury to others. He has pledged to do so again in the future to keep federal law enforcement officers from enforcing the law against him. As of the date of this hearing, he continues to violate federal court orders and continues to possess the proceeds of his illegal activities.
If convicted on all six counts, Bundy faces up to 49 years in prison; that would all but ensure his life would end behind bars. The charges could also be accompanied by a penalty of up to $250,000 per count.
According to the U.S. Attorney's Office in Nevada, Bundy is expected to return to Nevada for his next court appearance.
[h/t Oregon Live]
[Screengrab via TheGuardian]
Have a tip we should know? [email protected]