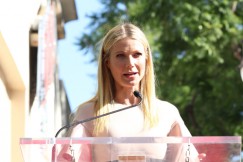 A Los Angeles jury has acquitted an Ohio man accused of stalking actress Gwyneth Paltrow. Dante Soiu was charged with stalking after federal prosecutors alleged he sent Paltrow a variety of unsolicited letters and gifts over the past few years.
Soiu was committed to a mental hospital in the early 2000s after he was accused of sending the movie star lewd messages and sex toys. This case is the second in which Soiu was accused of stalking Paltrow. He was found not guilty by reason of insanity in the first case.
The 66-year-old testified in front of the jury of six men and women that he continued to reach out to Paltrow as an act of repentance, seeking forgiveness for his prior wrongs.
A visibly upset and teary eyed Paltrow testified as well, recalling feelings of fear for her children's safety and her own. "I felt very upset by it. It defied logic, and I found it very, very upsetting," she said. "This was something I had been through a very long and traumatic experience with already."
Soiu testified that he was simply trying to make amends, "I have no desire to hurt her feelings," he said. "I have no desire to harass her."
In the past, Soiu had sent Paltrow earrings, clothes, religious books and even a Weight Watchers cookbook.
[h/t AP]
Have a tip we should know? [email protected]