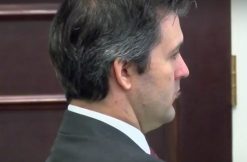 Video shows a cop fatally shooting an unarmed black man who was running away, but he says it was actually self-defense.
The trial of Michael Slager began on Thursday in North Charleston, South Carolina. Slager, 34, argues that the April 4, 2015 shooting was justified because Walter Scott, 50, grabbed his Taser after a traffic stop went bad. But prosecutors say the footage proves otherwise.
Video of the incident, obtained by The Post and Courier, can be seen here. Please be warned that it shows a man's death.
The incident tapped into the national discussion about police and their historically fraught relationship with people of color, especially African American men. This controversy played out in the court room, with prosecutors claiming that the defense dismissed seven potential jurors because they were black.
In the end, 11 white people, and one black person will decide Slager's fate in this murder trial. If convicted, he faces a possible life sentence.
You can watch the trial here via USA Today.
[Screengrab via footage]
–
Follow Alberto on Twitter (@Alberto Luperon)
Have a tip we should know? [email protected]