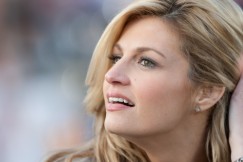 A jury has been selected in the $75 million civil lawsuit filed by Fox Sports reporter Erin Andrews. The lawsuit, filed in Davidson County Circuit Court in Nashville, Tennessee, accuses the Nashville Marriott at Vanderbilt University of negligence for allowing a stalker to take nude videos of the reporter in her hotel room.
Andrews is seeking the hefty sum of damages following a 2008 incident in which Michael Barrett, a former Illinois insurance executive, surreptitiously shot nude videos of the reporter via a hotel peep hole. Barrett rigged the peep holes to record videos of Andrews changing her clothes.
The 37-year-old arrived at the court on Monday as the jury of seven women and five men was selected. The jury pool consisted of approximately 50-60 people.
Marriott International, Inc. has confirmed via statement that Judge Hamilton Gayden dismissed them as a defendant in January. The locally-run Marriott, including its owners and managers, and Barrett remain co-defendants in the suit. Andrews has accused the hotel of negligence, infliction of emotional distress and invasion of privacy.
Barrett plead guilty to interstate stalking in the 2010 criminal case after prosecutors accused the Chicago man of following Andrews to multiple cities to shoot the videos. U.S. District Judge Manuel Real said he gave Barrett the maximum sentence under the law — two and a half years in prison.
The court resumes tomorrow morning and the trial is expected to last 10 days.
[h/t WKRN]
Have a tip we should know? [email protected]