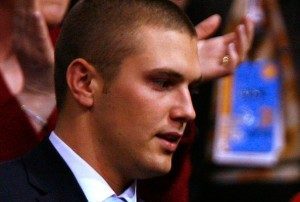 Track Palin, the son of former GOP VP candidate Sarah Palin, is at the center of another custody battle over his three-month-old son, according to tabloid reports.
Palin's ex-girlfriend, Jordan Loewe, filed a new petition in an Anchorage, AK courtroom last week asking for full custody of the couple'e three-month-old son, according to court filings obtained Radar Online.  In the pleadings, Loewe reportedly alleged that she is 'concerned' for her safety and the safety of three-month-old Charlie Mitchell Palin.
The court documents are said to show Loewe wants full-time primary physical custody and seeks to limit Track's visitation "completely" at her discretion.
The latest filing comes just under a year since Track's arrest for allegedly assaulting Loewe. On the night of Jan 18, 2016, Loewe told cops he struck her in the face and allegedly to harm himself with a rifle.
Sarah Palin said PTSD from Track's tour in Iraq was to blame for the episode when reporters asked about it at the time.  He was initially charged with a number of crimes, but Anchorage District Attorney Clinton Champion dropped several charges in exchange for Track successfully completing an alcohol treatment program and a therapeutic program for PTSD.  He also pleaded guilty to misconduct involving weapons while being under the influence.
This is now reportedly the second of Track's ex's to seek limited visitation from with his children.  Ex-Wife Britta Hanson sought to limit Track's visitation rights with the couple's four-year-old daughter, Kyla Grace, to four-days per month with zero overnight visits after his January 2016 arrest.
[image via screengrab]
Have a tip we should know? [email protected]