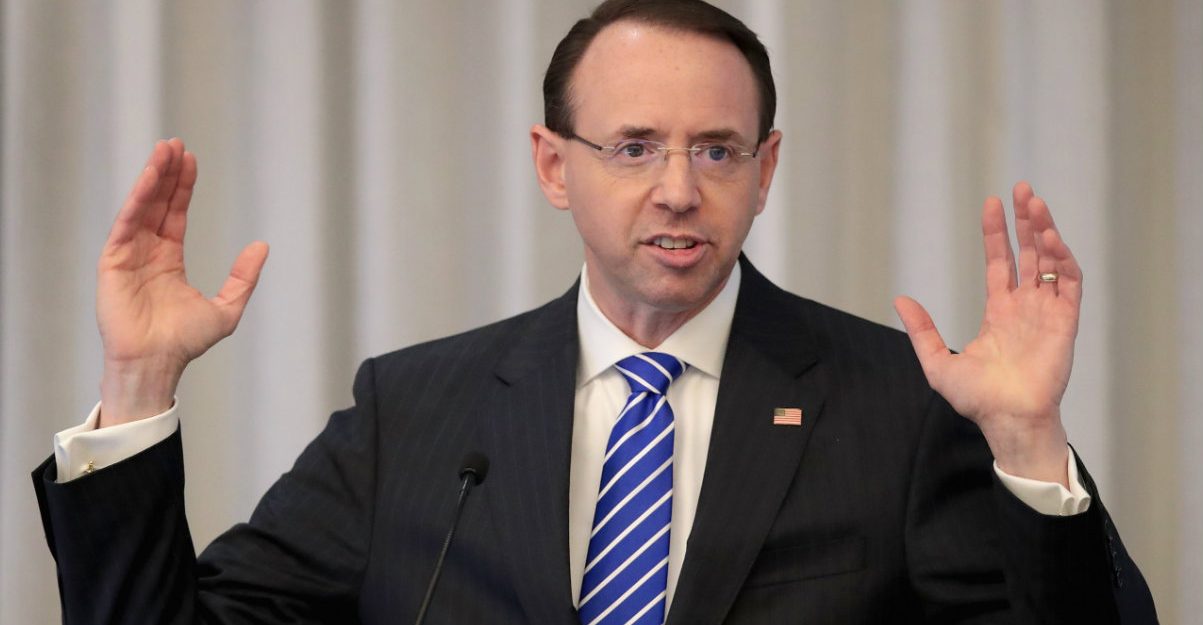 Deputy Attorney General Rod Rosenstein is scheduled to appear Wednesday on Capitol Hill for a "closed-door" meeting, wherein he will be interrogated by top Republicans and Democrats on the House Judiciary and Oversight committees. The still-employed Rosenstein, fresh off an Air Force One meeting with President Donald Trump that was described as "great," is going to have to answer even more questions about whether or not he was serious when he suggested wearing a wire to record the president and mentioned the 25th Amendment.
It appears these topics only scratch the surface of what Rosenstein may be asked in the context of the Russia investigation, however.
Judiciary Committee Chairman Sen. Bob Goodlatte (R-Virginia) told Fox News on Sunday that, contrary to what was suggested by Sunday Morning Futures host Maria Bartiromo, Republican representatives like Jim Jordan (R-Ohio) and Mark Meadows (R-N.C.) would not be "blocked" from questioning Rosenstein.
Reps. Jordan and Meadows have already complained publicly about the "SPECIAL format" of Rosenstein's testimony.
It's true that only Goodlatte, Rep. Trey Gowdy (R-South Carolina), Rep. Jerry Nadler (D-New York) and Rep. Elijah Cummings (D-Maryland) will be in the room. It's also true that the interview will be transcribed by someone with the appropriate security clearance, that Rosenstein will be answering questions under oath, and that a transcript will be made available after it is reviewed by the intelligence community. Other members of these committees will still be able to submit questions, they just can't ask them themselves.
Goodlatte also said that it was not true that Rosenstein set the rules of this engagement, saying it was "our proposal."
On the one hand, Goodlatte is essentially saying that the meeting will be a safe space of sorts that will not result in any leaks, and that any question is on the table. On the other hand, Republican lawmakers who have openly called for Rosenstein's impeachment will still be able to submit any questions.
Goodlatte maintained that this meeting will mainly cover the reporting that Rosenstein met with DOJ and FBI officials and spoke "about the possibility of wearing a wire when he meets with the president of the United States, his boss, the chief executive officer of our country, and the possibility of putting together Cabinet members to invoke the 25th Amendment to the United States Constitution, which would be a mechanism to declare the president disabled."
The House Judiciary chairman said that the interview process is being conducted in a "classified setting"  so that there are no concerns about "leaks."
"We know [Rosenstein has] met with President Trump. President Trump has been satisfied and said that he wants him to continue on as his number-two at the Department of Justice," Goodlatte said. "But the Congress has oversight responsibility. So we're going to ask him about those questions along with many other things."
It remains to be seen what the "many other things" will be and whether this "classified setting" truly prevents the answers Rosenstein gives in this meeting from leaking out in advance of a publicly available report.
[Image via Scott Olson/Getty Images]
Have a tip we should know? [email protected]