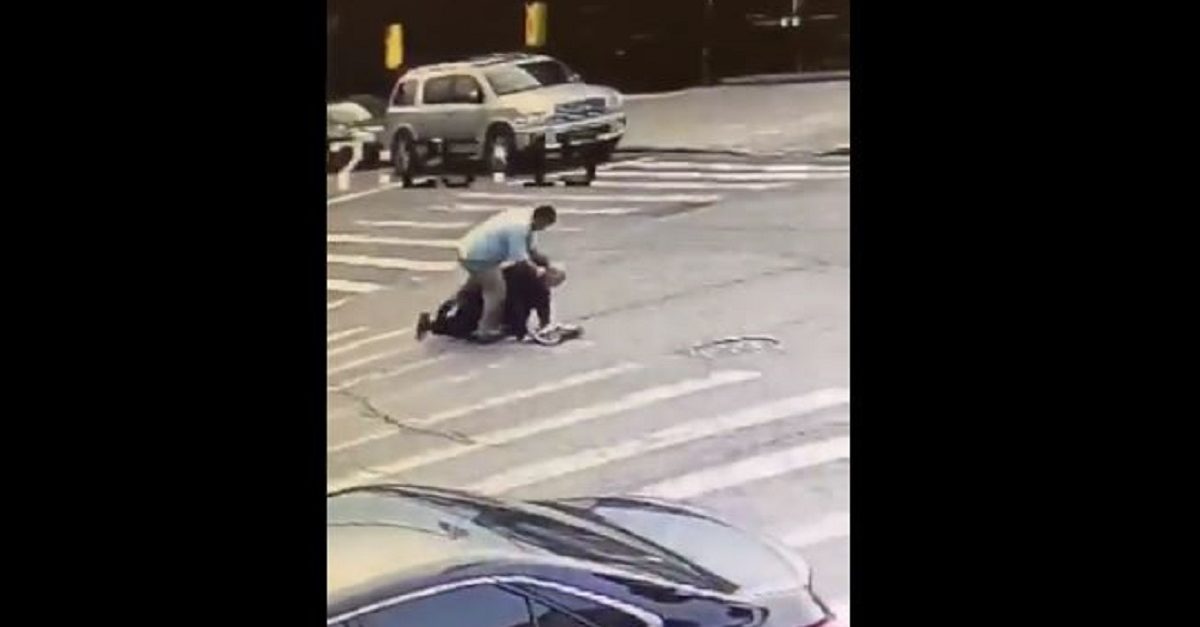 A New York City cab driver is now facing a hate crime charge, after prosecutors decided to upgrade the case involving the alleged assault of a 62-year-old Jewish man in Brooklyn. Farrukh Afzal was arrested after an incident in the middle of a Brooklyn intersection was caught on video a week ago.
I'm horrified by this unprovoked vicious assault on an elderly member of our community. Justice needs to be served swiftly and fully. Thank you @BPShomrim and @NYPD66Pct for the quick response. pic.twitter.com/ET9ReklotR

— Barry Spitzer (@bspitzer) October 14, 2018
The victim, Lipa Schwartz, can bee seen on the ground, being pummeled by a man believed to be Afzal. A member of the local Hasidic Jewish community of Borough Park can then be seeing confronting the attacker, who then chased him away.
Schwartz told the local ABC station he had no idea why he was attacked.
"All of a sudden, 'boom,'" Schwartz said. "I tried to protect myself, run away. I fell. He come again on me."
Police said that Afzal mistook Schwartz for another Hasidic man who had hit his car. A spokesperson for the New York City Taxi and Limousine Commission told Law&Crime that Afzal is not a licensed taxi driver, and has been summonsed in the past by the TLC for illegal operation of a vehicle for-hire. The private service who employed him as a driver said they would no longer do so.
Afzal, a Muslim man from Pakistan, was not originally charged with a hate crime, despite Schwartz's claim that he heard his attacker shouting about "Allah" and "Israel." The Brooklyn District Attorney's Office eventually changed their minds and upgraded the charge to a hate crime, much to the appreciation of local officials.
TY @BrooklynDA for presenting a hate crime charge against the assailant in Sunday's assault in Boro Park. It is important that, in a high-profile case like this, the attacker is held accountable for his actions. Kudos again to @BPShomrim for their role in apprehending the perp!

— Councilman Deutsch (@ChaimDeutsch) October 19, 2018
A family member of Afzal claimed that he's really "a good guy," telling the New York Post that he suffers from mental illness and was off his medications.
[Image via screengrab]
Have a tip we should know? [email protected]