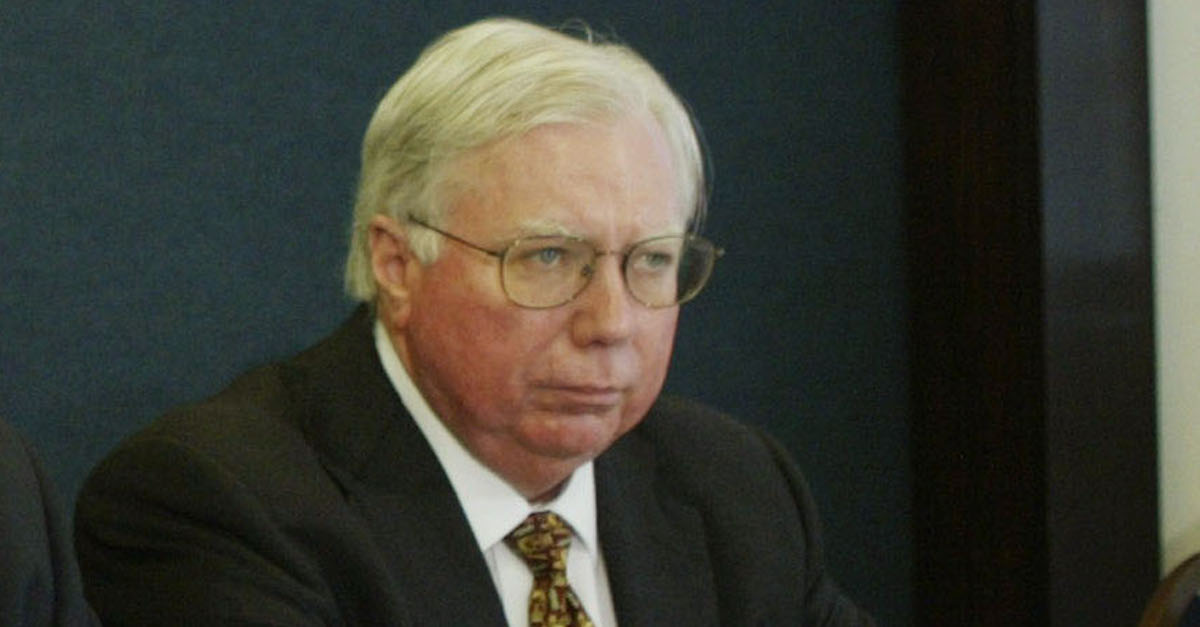 Right-wing author Jerome Corsi claimed that he was going to be filing a "criminal complaint" with the U.S. Attorney General's Office against Special Counsel Robert Mueller's office on Monday morning. Since criminal complaints are filed by the government (not individuals) with courts (not an AG's office), this led to some confusion. Well, Monday morning is here, and so is Corsi's "complaint," so let's break down the main points of what it is and what he's alleging that Mueller's office has done to warrant it.
1. It's definitely not a criminal complaint
Criminal complaints, as mentioned above, are court documents filed by prosecutors. This document is a letter from Corsi' attorney Larry Klayman, to Acting Attorney General Matthew Whitaker, the D.C. Bar, and various Justice Department officials, requesting an investigation. It accompanies ethics complaints against Mueller and team members Jeannie Rhee, Andrew D. Goldstein, Aaron S.J. Zelinsky, and  L. Rush Atkinson with the D.C. Court of Appeals' Office of Professional Responsibility. It is not a criminal complaint.
In a statement to Law&Crime about this, Klayman said, "Dr. Corsi calls it a 'criminal complaint' because it asks for a criminal investigation and referral for prosecution."
2. Corsi explains his advance knowledge of WikiLeaks' data dump (spoiler: it's about Hillary Clinton)
A draft Statement of Offense that was purported to be meant for Corsi to sign as part of a plea deal outlined how he communicated with Roger Stone and others regarding WikiLeaks' publishing of hacked Democratic emails.  Klayman's letter explains that Corsi did not have any special advance knowledge of the emails like those of Clinton campaign chair John Podesta from WikiLeaks or Julian Assange, rather he pieced it together by going through Hillary Clinton's hacked emails. The letter says:
Dr. Corsi – as he has stated publicly – noticed that emails to and from Hillary Clinton's campaign manager John Podesta were conspicuously missing from the July 22, 2016 public-release of DNC emails. Employing his professional skills and considerable experience as an analyst and investigative journalist, Dr. Corsi logically concluded that Wikileaks would release Podesta's emails soon in a second round "data dump" from the same group of DNC emails stolen on July 5, 2016.
3. He accuses Mueller's office of illegally leaking grand jury information
The letter accuses the Special Counsel Press Office, specifically spokesperson Peter Carr, of "orally leak[ing] grand jury and other confidential information to the media, avoiding any written record of the leak." The letter cites news articles referencing anonymous sources as evidence that the Press Office leaked information about the focus of Mueller's investigation.
In an email to Law&Crime, Carr said the office declines to comment.
4. Witness tampering, obstruction, retaliation, and more
A great deal of Corsi's allegations surround what he claims was an effort by Mueller's team to have him lie about ties to Stone and WikiLeaks as part of his guilty plea. He claims that these efforts amounted to witness tampering, obstruction of justice, and retaliation against a witness. From the letter:
Those prosecutors hired and operating under the direction of Special Counsel Robert Mueller want Dr. Corsi to falsely testify that he and Roger Stone acted as go-betweens (alone or through additional links and contacts) between the 2015-2016 presidential campaign of Donald J. Trump and the Russian government through Wikileaks founder and leader Julian Assange. Faced with what was deceptively proposed by the Special Counsel to appear like an easy, sweetheart plea deal, Dr. Corsi has refused because such testimony would be a lie. Dr. Corsi has been accused of telling a lie when he is telling the truth.
Corsi alleges that Mueller committed witness tampering and obstruction of justice by trying to coerce him to give false testimony. By allegedly threatening to prosecute him if he did not comply, Mueller and his team allegedly retaliated against a witness, in violation of 18 U.S. Code § 1513.
Other criminal allegations mentioned that are based on the same thing include extortion and conspiracy to suborn perjury. Also mentioned is conspiracy to violate securities regulations because Mueller allegedly wanted to keep Corsi's plea secret, even though he'd have to report it to the (Financial Industry Regulatory Authority) FINRA, because he holds a securities license.
5. Angry Democrats
Corsi takes a cue from President Donald Trump, alleging that Mueller and his team are saddled with conflicts of interest and are unfit to work on this investigation. These conflicts includes some of their past political contributions to the Democratic party.
"Mr. Mueller and his team suffer from numerous conflicts of interest that mandate their removal," the letter says. "More than half of Mr. Mueller's massive team of lawyers are influential donors to the Democrat party investigating the presidential campaign of a Republican President, Donald Trump."
6. More on Clinton
Corsi specifically takes aim at prosecutor Jeannie Rhee for her past work for the Clintons. He claims that because she worked for Trump's 2016 opponent, Rhee would not be willing or able to investigate evidence against Hillary Clinton or the Clinton investigation.
Jeannie Rhee's previous work for the Clinton Foundation and the Clintons would prevent her from exploring evidence or explanations that might point to criminal or even unethical actions of the President Trump's [sic] adversary in the 2016 campaign, including alternative explanations of allegations, the $12 million that Hillary Clinton's campaign trolled through the Russian intelligence community through the law firm of Perkins Coie and former British spy Christopher Steele.
Corsi claims that Rhee would not even be permitted by ethics rules to investigate evidence harmful to the Clintons because she represented them and their foundation. Because of this, she supposedly would be unable to properly do her job as part of Mueller's office.
"Rhee could not do her job as a prosecutor to dispassionately and fully explore the facts where the evidence leads for her current client (the U.S. Government) without violating her duty of loyalty to her past client the Clinton Foundation," the letter says.
This ignores the fact that Mueller's investigation is not meant to be aimed at the Clintons, but at the Trump campaign's possible ties to Russian election interference.
7. Uranium One and Russian Collusion … with Clinton
Now the "complaint" takes a turn by pointing to the Uranium One story, where several government agencies in the Obama Administration approved the sale of a significant amount of the U.S. uranium production to a Russian government-owned company. Clinton, who was Secretary of State at the time, has been accused of being influenced by Clinton Foundation donors with ties to Uranium One, the company purchased by the Russian firm Rosatom.
Corsi claims that due to Rhee's history with the Clinton's and Mueller's own history with the deal while he was head of the FBI, neither one would be able to ethically look into evidence of foul play involving Russia and the Clintons.
If the evidence shows that Russia intervened in the election on behalf of Hillary Clinton because of her support for the sale of twenty percent (20%) of the uranium mining reserves of the United States to the Russian Federation as the leading member of the inter-governmental decision-making body the Committee on Foreign Investment in the United States ("CFIUS"), Mr. Mueller and his team would be ethically prohibited from honestly exploring the truth.
Again, this ignores the fact that Mueller's investigation is about Russian interference in the 2016 election and possible Trump campaign ties to such interference, not the 2010 Uranium One deal.
8. Political Discrimination
Corsi also claims that the reason why he's been targeted by Mueller's team is because of his politics. He accuses prosecutors Rhee, Goldstein, Zelinsky, and Atkinson, of "discriminating against Dr. Corsi – as they have made explicitly clear during interviews – and others because they disagree with his political views and activities."
9. Treasonous 'Coup' to Overthrow the President
Finally, Corsi lobs a grenade in the form of accusations of treason. In colorful language from Klayman, the letter says:
Special Counsel Mueller and his prosecutorial staff, the majority of whom are partisan Democrats and supporters of Hillary Clinton, whom he has intentionally hired, are effectively engaged in a "coup" against the United States and are working to overthrow the duly elected President of the United States, elected and empowered by the voters pursuant to the U.S. Constitution.
In a statement, Klayman called Mueller's investigation "rogue government tyranny" aimed at "coercing and extorting false testimony from Dr. Corsi and others[.]"
"Dr. Corsi is an American hero, not a felon as depicted falsely by Special Counsel Mueller and his prosecutorial staff," Klayman said. "To the contrary, it is Mueller and his comrades who must now be held to account under the rule of law and professional ethics."
Corsi Complaint by Law&Crime on Scribd
Ronn Blitzer is the Senior Legal Editor of Law&Crime and a former New York City Prosecutor. Follow him on Twitter @RonnBlitzer.
[Image via Matthew Cavanaugh/Getty Images]
Have a tip we should know? [email protected]