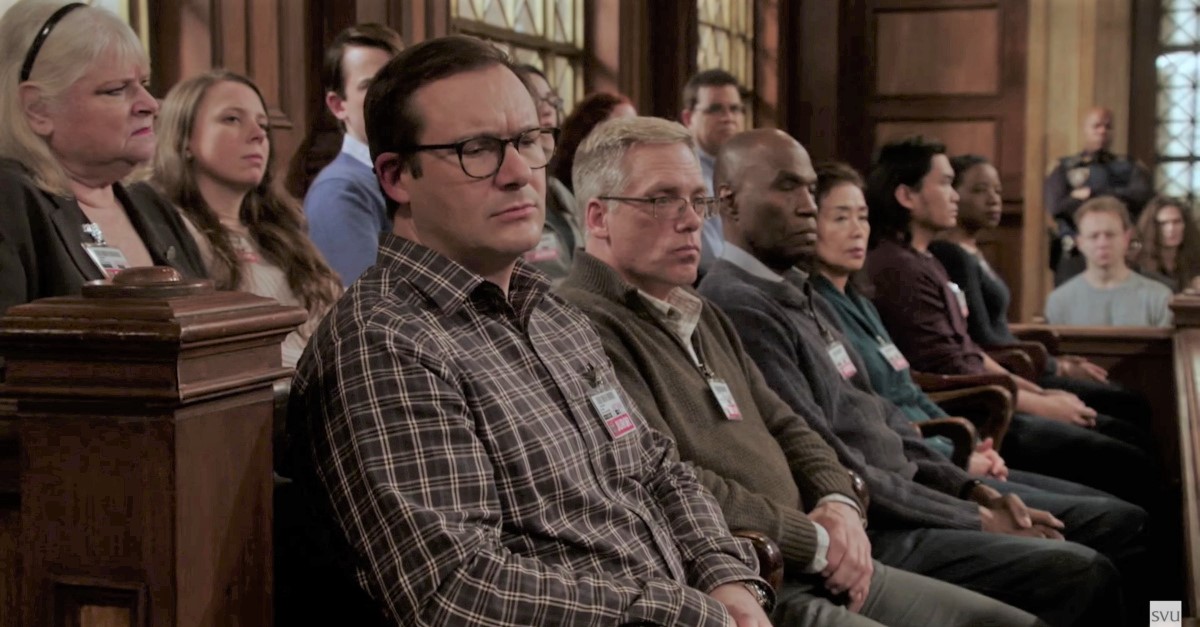 Nearly thirty years ago at the dawn of DNA evidence testing, and before the OJ Simpson DNA spectacle, I cold-called DNA and "Innocence" guru Barry Scheck, asking him to co-author an article on the role of DNA in "white collar" crime-solving and crime-exoneration. He charitably responded – and it was charitable indeed – that it might only have a role if an incriminating document in the case caused a paper cut (which cut could yield incriminating or even exculpatory blood evidence). That may theoretically no longer be the case, however. Forensics becomes continually more sophisticated – what if the defendant coughed or left a hair on a relevant document?
But it's not really about white collar cases. Most any person – indeed any potential juror – who has no background in forensics, but watches such TV staples as Blue Bloods, Law & Order, CSI, Hawaii Five-0, NCIS (the list really does go on), will likely have come to the conclusion that law enforcement agents can do virtually anything, and immediately so in real time, as if guilt or innocence was always as determinative as in many instances of DNA evidence, enabling the police to solve a crime – up or down – given the scientific and forensic abilities that these shows display nightly.
You know, a poison-laced cupcake is anonymously left after midnight at the doorstep of a crime-busting prosecutor on the verge of making the biggest corruption case in modern times. When the otherwise shrewd lawyer surprisingly eats it with his breakfast coffee, thinking a
member of his squad left it for him, he goes into a poison-induced coma. The force jumps into action – "Get me the name and address of every bakery and pastry shop within a ten-mile radius of the DA's home that bakes oatmeal cupcakes with green frosting." We know how it goes – the computer tech gets the info in mere minutes (just a few keystrokes), detectives are dispatched, the poisoner is located (cell phone triangulation, or something) SWAT teams are dispatched, and finally, the antidote is discovered in his refrigerator. Our heroes never hit traffic, and always find a parking spot.
Okay, most people will agree that that one is pure fiction. But how about when TV shows present faultlessly enhanced photos from surveillance footage, "perfect" (no doubt at all) ballistics matches, or 98% (no question, really) DNA matches? Which brings us to the crux of this piece – what is a lawyer (or judge) to do if a juror comes to court, as he certainly might, with a preconceived and exaggerated sense of what the prosecution can (should) demonstrate, or what the defense can (should) disprove?
When questioning potential jurors, should lawyers, or judges, ask what TV shows the juror watches in an attempt to gauge that person's forensic expectations? Yes. Jurors come to court with their own thoughts, expectations and experiences. And in our world with cop show after cop show which can be watched at any hour of the night or day, can we truly say that at least one juror per trial is not influenced by what they see on the screen? And even if a jury were to be properly instructed that TV capacities are unrealistic, can anyone be sure that the jurors are actually capable of putting aside what they say they can – given that it has been so ingrained into the collective or individual consciousness?
By raising these questions, we are not suggesting in the slightest that the average juror – jurors like you and me – can't distinguish between TV-life and real life. Of course we can. But there is something about the certainty with which these forensic issues are presented – indeed, in episodes that are very often based on real life events – that gives one pause. After all, when you see on television the trifurcated computer screens that condense such incredibly vast amounts of information, such as a person's whereabouts at a particular moment in time – especially when we have surveillance cameras, Metro Cards and E-Z Passes – the juror who binge watches on cop shows may not be so far off in his expectations.
To be sure, we can't expect or demand that TV producers post a disclaimer before each such show announcing: "WHAT FOLLOWS ISN'T YET POSSIBLE IN THE REAL WORLD." In fact, much of what they show may indeed be possible, albeit in a perfect, well-funded world rather than the one occupied by local law enforcement. Still, too often people may believe that something which someday may be forensically doable is actually doable now. And unlike science fiction which makes obvious to the viewer that what is depicted on the screen is fantastical, cop TV forensics may not always be so obvious to the lay juror.
U.S. District Judge Jed S. Rakoff, sitting in the Southern District of New York, for example, routinely gives this instruction to jurors:
You should be careful not to speculate about matters not in evidence. For example, there is no legal requirement that the Government prove its case through a particular witness or by use of a particular law enforcement technique. Nor should you speculate about why one or another person whose name may have figured in the evidence is not part of this trial or what his or her situation may be. Your focus should be entirely on assessing the evidence that was presented here for your consideration.
Now, this charge takes one partly there, but does not directly address the issue raised by this article; and, understandably, Judge Rakoff probably wouldn't want to put the thought into the minds of jurors who otherwise might not be thinking about it. But suppose one party or the other – along with the judge – recognizes in a particular case the legitimate concern that jurors might indeed be moved to wonder why "this" or "that" type of evidence wasn't presented. And it's precisely the type of evidence that is crime-show, but not real-world, doable. What about a charge that goes something like this:
I am aware that there are a number of TV programs and movies that portray law enforcement employing innovative and highly effective technology and techniques used by highly skilled professionals. I instruct you that much of what you see depicted in these programs is entertainment, and not necessarily based on reality. You should not infer that any of these technologies actually exist currently, are legally available, or are or should be in use. Your focus should be entirely on assessing the evidence that was presented here for your consideration.
I suspect this issue may be a real issue for some jurors. And while Judge Rakoff, whom I admire greatly, is indeed a very imaginative and conscientious judge, is it possible that he (and other judges) are just not watching enough cop TV, as, in contrast, are we philistines?
Joel Cohen practices law at Stroock & Stroock & Lavan LLP and is the author of Blindfolds Off: Judges on How They Decide.
[Screengrab via NBC and Law & Order: SVU]
This is an opinion piece. The views expressed in this article are those of just the author.