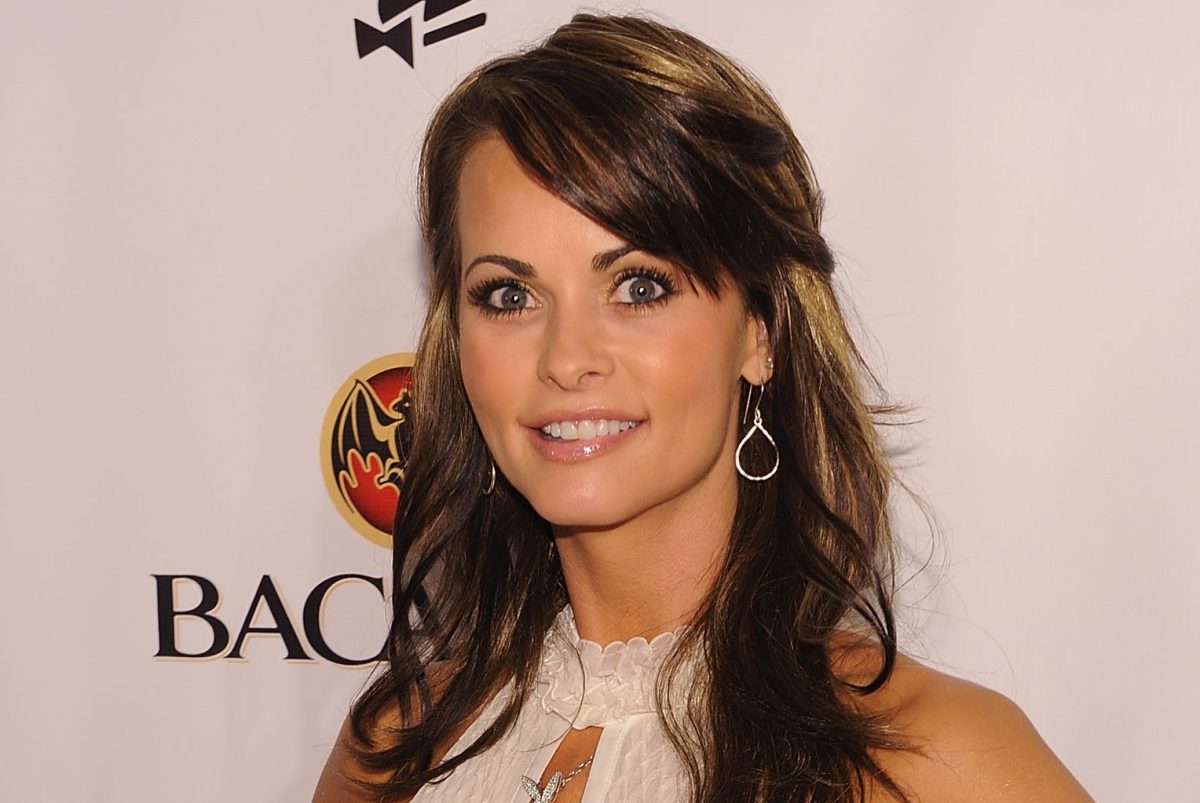 Well, Stormy Daniels isn't the only woman suing to be able to talk about an alleged affair she had with President Donald Trump. Now, former Playboy playmate Karen McDougal is also suing to be able to get out of an agreement she made to stay silent. That agreement was made with American Media Inc., parent company of The National Enquirer, who bought the rights to her story.
McDougal is now suing, claiming that she was misled regarding the terms of the deal, and that the agreement should not be enforceable. The details are quite startling, so here are the biggest bombshells in the complaint.
1. McDougal thought she'd be getting significant press coverage in exchange for her silence. She was wrong.
According to her lawsuit, McDougal understood that she would not be permitted to discuss her alleged affair with Trump, and that her story wouldn't be published either. In exchange, she thought A.M.I. would be publishing a monthly column for her as well as other monthly pieces in their various publications. As it turns out, the agreement only said A.M.I. had the right to do this, not that they actually would, the complaint says. While they did publish some stories for her, it was not the amount that McDougal expected.
2. McDougal used the same lawyer as Stormy Daniels, and claims he was working closely with Trump the whole time.
The complaint says that McDougal's own lawyer at the time helped mislead her during the negotiations. That attorney? Keith Davidson, the same lawyer who handled Daniels' agreement, and who was recommended to McDougal by a friend. The lawsuit says, "Unknown to Ms. McDougal, Mr. Davidson was working closely with representatives for Mr. Trump while pretending to advocate on her behalf."
It was Davidson, who allegedly recommended that McDougal go to A.M.I. with her story in the first place. She claims she didn't know at the time that A.M.I.'s CEO David Pecker was old friends with Trump, and had a history of buying stories and burying them for his friends. Davidson allegedly told McDougal that A.M.I. was going to present her with a million-dollar deal, and that $500,000 was going into escrow, but this was false, according the suit. The final amount ended up being just $150,000.
The lawsuit goes on to say that Davidson himself "had a close working relationship with Donald Trump's personal attorney and "fixer," Michael Cohen," who was secretly involved in the negotiations.
McDougal didn't learn until a recent New York Times report that after she signed the agreement, Davidson contacted Michael Cohen to tell him that it was done and McDougal's silence was taken care of.
3. Her lawyer pressured her into signing a deal before she was ready.
On August 5, 2016, Davidson sent McDougal a "Final Draft" of the deal, after sending her a previous version earlier in the day. After discussions with Davidson and an A.M.I. representative, McDougal said, "I have to read through it more but I can't focus on it tonight." Davidson allegedly said that they could discuss any time but needed to wrap up the deal quickly in order to turn down a competing offer that she had received from ABC. Feeling pressure, she alleges, she signed the agreement the following morning.
4. Davidson (McDougal's old attorney) took a whopping 45 percent of her money.
The complaint claims, "Mr. Davidson's fee agreement granted him 45% of whatever Ms. McDougal received." McDougal alleges that they talked about this over dinner, where they shared "multiple bottles of wine" and he "falsely told her this was standard in the industry." McDougal also claims that Davidson told her that her story was worth millions, and she signed the agreement.
Lawyers are restricted by ethics laws when it comes to how big of a percentage they can take from their clients' settlements, but it's unclear who those other parties were. Even if it turns out that this was technically legal, taking nearly half of McDougal's money is seriously shady, if that allegation is true.
In a statement obtained by Law&Crime, McDougal said, "AMI lied to me, made empty promises, and repeatedly intimidated and manipulated me. I just want the opportunity to set the record straight and move on with my life, free from this company, its executives, and its lawyers."
McDougal's current lawyer, Peter Stris, said:
Through efforts including the collusion of her own lawyer, AMI has consistently deceived and manipulated Ms. McDougal through an illegitimate contract. We are confident that the so-called contract will be invalidated, and are eager for Ms. McDougal to be able to move forward with her life with the privacy she deserves.
A spokesperson for Davidson told Law&Crime:
The circumstances of this situation are vastly different today than they were when these discussions were going on in 2016. Mr. Davidson fulfilled his obligations and zealously advocated for Ms. McDougal to accomplish her stated goals at that time. As much as Mr. Davidson would like to comment further on this matter, doing so would violate attorney-client privilege.
A.M.I. denies any wrongdoing and says that McDougal has been free to answer media inquiries about her alleged affair with Trump since 2016, and they deny silencing her. They told Law&Crime that they have published 20 columns by McDougal, in addition to other stories and a video shoot. A company statement also said:
She was also slotted to appear on the cover of Men's Journal, a magazine with a circulation of 1,250,000, but she has not responded to repeated requests to schedule that photo shoot and through her attorney she indicated she believed she was not being paid enough to do all the work she had been asked to do.
The company also said they had been under the impression that McDougal was pleased with how things had been going. "Her lawsuit is the first time AMI has learned of her desire to go a different direction.  AMI has a valid contract with Karen and we look forward to reaching an amicable resolution satisfactory to her and to AMI," they said.
Note: This article has been updated with A.M.I.'s response.
[Image via Dimitrios Kambouris/Getty Images for Playboy]
Have a tip we should know? [email protected]