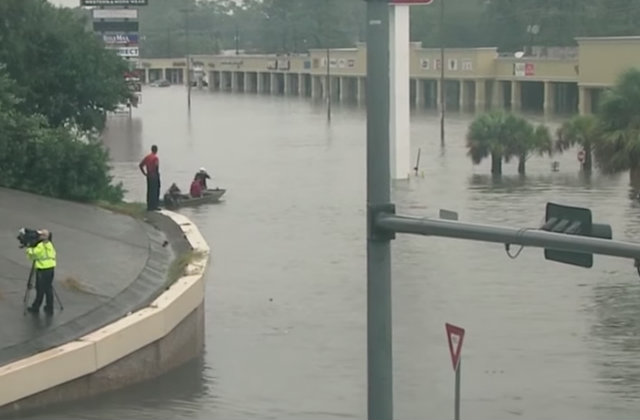 Months later, Texans are still cleaning up in the wake of Hurricane Harvey, and one local muncipality has the American Civil Liberties Union crying foul. The city of Dickinson, Texas released on Monday a new application for relief funds to rebuild homes and businesses. But it includes wording in which applicants promise not to boycott Israel:
Verification not to Boycott Israel. By executing this Agreement below, the Applicant verifies that the Applicant: (1) does not boycott Israel; and (2) will not boycott Israel during the term of this Agreement.
Clearly unconstitutional, argued the ACLU.
"The First Amendment protects Americans' right to boycott, and the government cannot condition hurricane relief or any other public benefit on a commitment to refrain from protected political expression," said ACLU of Texas Legal Director Andre Segura in a statement. "Dickinson's requirement is an egregious violation of the First Amendment, reminiscent of McCarthy-era loyalty oaths requiring Americans to disavow membership in the Communist party and other forms of 'subversive' activity."
The city attorney of Dickinson said they were just following the law, according to KTRK. Gov. Greg Abbott signed that statute in May. It stops Texas from doing business with companies involved in the Boycott, Divestment, Sanctions movement against Israel over the nation's treatment of Palestinians.
The ACLU recently sued over a similar law in Kansas. A former teacher was working as a contractor for Kansas Department of Education's Math and Science Partnerships program. She refused to sign a form to certify she isn't boycotting Israel because of a church-led boycott of that country. Accordingly, the state declined to contract her. The ACLU argued this law violated her First Amendment rights to association, free expression, and freedom from being compelled to say political speech she disagreed with.
The ACLU hasn't sued Dickinson, but they are asking to hear from locals asked to sign the form.
Professor Gregory Magarian, who teaches about the First Amendment at the Washington University School of Law, told Law Newz that the city is in the wrong.
"In my view, the anti-BDS clause in this application form is grossly unconstitutional," he said. "Whatever the merits or demerits of boycotting Israel, the decision to boycott is a matter of First Amendment rights. The government may not condition benefits on a recipient's agreement to waive or forgo constitutional rights. That's called an unconstitutional condition, and it is clearly unlawful."
If there is a lawsuit, don't be surprised if Texas takes a page from Eugene Kontorovich. This law professor from Northwestern University helped out on the states' anti-BDS bill. In defending similar laws, he said there is a distinction between expressive speech vs. the regulation of commercial conduct.
"Refusing to do business is not an inherently expressive activity, as the Supreme Court held in Rumsfeld v. FAIR," he wrote in a WashPo op-ed against ACLU criticism of the federal Israel Anti-Boycott Act. "It can be motivated by many concerns. It is only the boycotter's explanation of the action that sends a message, not the actual business conduct. Those expressions of views are protected, but they do not immunize the underlying economic conduct from regulation."
Update – Oct. 21, 12:13 p.m.: Added a quote from Magarian.
[Screengrab of Dickinson, Texas amidst Hurricane Harvey via CBSN]
Have a tip we should know? [email protected]