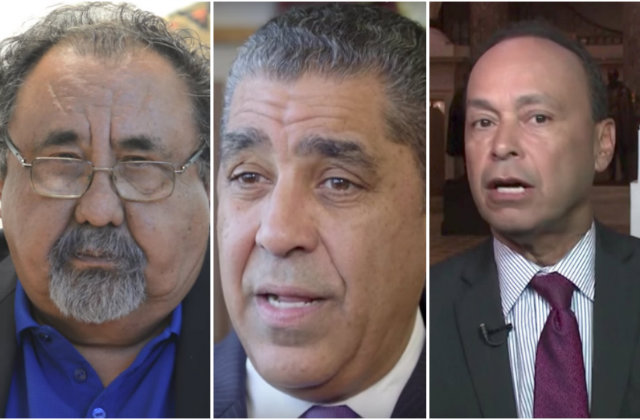 The office of Rep. Raúl Grijalva (D-Arizona) reported Monday that he and two other Democratic congressmen were arrested at a pro-DACA protest by Trump Tower in New York City.
"Raul was taken into custody in front of Trump Tower for civil disobedience along with Rep. Gutiérrez and Rep. Espaillat," they said in a Facebook post. Luis V. Gutiérrez serves in Illinois and Adriano Espaillat represents parts of New York City.
"Today, Congressman Adriano Espaillat stood up for immigrant youth to say loud and clear – unequivocally, that he dedicates his work in Congress to protecting immigrants, immigrant families, and their future in America," said Director of Communications Candace Person in an email. "Since day one, the Trump Administration has threatened Latinos, Muslims, LGBT, women and the list continues. His decision to end the DACA program earlier this month increased the urgency of what's at stake and the lives at risk when we fail to speak out against racism in America."
As for Gutiérrez, he put his official statement on Twitter.
"We're making it clear to Trump, GOP & Dems: we will continue peaceful fight for #Dreamers & immigrants as long as it takes."#defendDACA

— Luis V. Gutierrez (@RepGutierrez) September 19, 2017
Standing w/ diverse allies to make sure Congress & President do more than just talk about solutions, they actually follow through w/ action https://t.co/YxZjkKT2VT

— Luis V. Gutierrez (@RepGutierrez) September 19, 2017
Law Newz also reached out to the New York Police Department to confirm the arrests, and any possible charges, but a spokeswoman told us shortly before press time to call back because the records were still processing.
Protesters showed up to Trump Tower on Monday to oppose President Donald Trump's decision to repeal DACA–Deferred Action for Childhood Arrivals. The program, which was started by Barack Obama in 2012,  shields undocumented immigrants from deportation if they came to the states as minors. It affects almost 800,000 people nationwide.
Gutiérrez has been arrested before.  He was booked in August during a protest for immigrant rights, and was handcuffed in March, accused of refusing to leave an ICE office in Chicago.
[Images, from left to right: Grijalva via his YouTube page; Espaillat via NBC News; Gutiérrez via Bloomberg]
Have a tip we should know? [email protected]