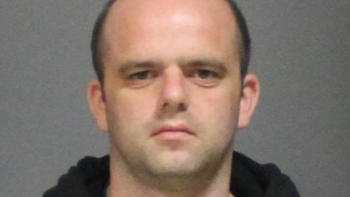 A Connecticut man apparently thought it would be a brilliant idea to graffiti an elementary school with "Kill Trump, "Bernie Sanders 2020," and "Left is the best" in an odd scheme to blame liberals. But, 32-year-old Steven Marks is no Bernie supporter
He told cops he did it out of 'anger towards liberals and they are breaking major laws everyday and being disrespectful towards our government,'" and he was hoping people would think it was done by someone from the "left," according to a report in The West Hartford Courant. In fact, he told local outlets he supported President Donald Trump.
WATCH 28 SECOND SURVEILLANCE VIDEO CLIP HERE
The anti-Trump graffiti was written on park benches, and playground equipment at Morley Elementary School on June 15th. According to a police report, the graffiti was found the next day by students who told the principal "swear' words had been written on their playground.
"It was just a stupid thing I did at the time," Marks told a reporter from The Courant last week. "It was stupid, stupid, stupid."
During a court appearance on Wednesday, a judge ordered that Marks stay off school property. The prosecutor agreed to continue the case in order to discuss restitution with the involved parties. Marks will also be meeting with a local social worker.
Marks was charged with third-degree criminal mischief and breach of piece.
Have a tip we should know? [email protected]
Rachel Stockman - President / On Air Host