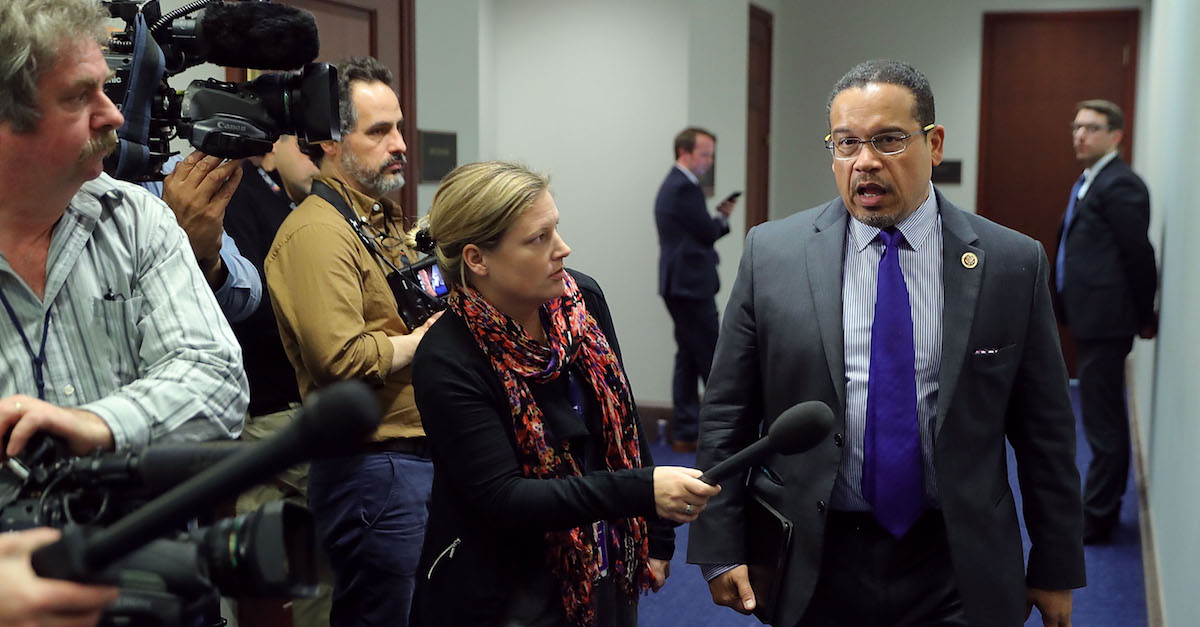 Democratic candidate for attorney general and current Rep. Keith Ellison (D-Minn.) may soon see his divorce records unsealed, as public interest grows about allegations of domestic abuse against him. Ellison is also the deputy chair of the Democratic National Committee.
According to reports, the Star Tribune has joined the website Alpha News in a legal battle to find out more about the circumstances in which Ellison and his ex-wife Kim Ellison divorced.
The Ellisons divorced in 2012. The Star Tribune said that its argument centers on public interest in allegations that he domestically abused his ex-girlfriend, Karen Monahan.
"[T]hat situation and Kim Ellison's public support of her ex-husband […] are a matter of concern to voters," the publication argued. "Divorce records are typically public, but judges will often agree to seal them if both parties to the case agree and no one else objects."
Kim Ellison has responded to the news in statement, saying "Our divorce simply isn't the public's business, and therefore, when we separated, we jointly asked the court to seal the file."
"Now, one month before a closely contested election for Minnesota Attorney General, a conservative group wants to probe our divorce file in search of something to use against Keith in this race," the statement read. "I am disappointed that the Star Tribune would choose to file this motion."
She has said that her ex-husband has "never abused me in any way before, during, or after our marriage" and that she is concerned about the impact this will have on their children. Both she and Ellison plan on opposing the Star Tribune's motion and it will be up to a district judge to decide whether the documents should be unsealed. Both Alpha News and the Star Tribune want their motions heard on the same day, Oct. 9.
Monahan's accusations, which Keith Ellison has denied, have been well-documented before by Law&Crime.
Austin Monahan, Karen Monahan's son, said in a post in August that "My brother and I watched our mom come out of pure hell after getting out of her relationship with Keith Ellison. For several months we knew something wasn't right and couldn't figure it out. When we asked our mom if everything was ok, she told us she was dealing with some stress and would be ok."
Monahan then alleged that in the middle of 2017 he found "over 100 text and twitters messages and video almost 2 min long that showed Keith Ellison dragging my mama off the bed by her feet, screaming and calling her a 'fucking bitch' and telling her to get the fuck out of his house."
"The messages I found, were mixed with him consistently telling my mom he wanted her back, he missed her, he knew he fucked up and we wished he could do things different, he would victim shaming, bully her, and threaten her if she went public," he added.
Ellison said such a video doesn't exist.
As recently as two days ago, Monahan tweeted at Ellison saying, "This isn't right" and "This is not going away."
"You know I have the video and more," she said. "I am still trying to offer grace and a way out."
She also criticized Ellison for having his daughter "smear and lie" about her.
[Image via Chip Somodevilla/Getty Images]
Have a tip we should know? [email protected]