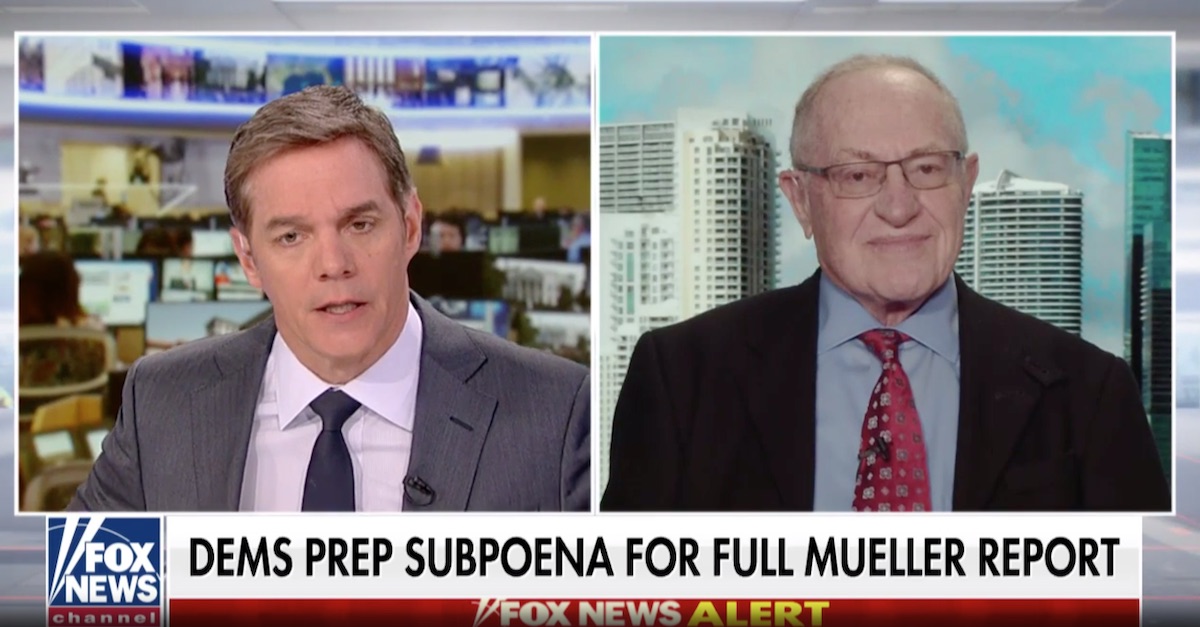 Harvard Law Professor Emeritus Alan Dershowitz, one of President Donald Trump's most strident defenders on cable news throughout Special Counsel Robert Mueller's Russia investigation, came out swinging Monday on the topic of House Democrats subpoenaing the "full" Mueller report.
Dershowitz went on Fox News and said the move was "political," adding that there is "no legal basis" to force Attorney General William Barr to release the report.
"The special counsel, under the rules, has an obligation to file a report with the attorney general. There's nothing in the rules that requires the attorney general to make the report public, particularly if it contains information critical of people who were not indicted," Dershowitz said.
He said that this is a "political issue" and a "media issue," but "not a legal issue." He also said Democrats would be "up in arms" if Republicans subpoenaed the "full report" on the Hillary Clinton email probe.
Dershowitz is, of course, responding to the Monday announcement from House Judiciary Chairman Rep. Jerrold Nadler (D-N.Y.).
"Congress requires the full and complete Special Counsel report, without redactions, as well as access to the underlying evidence," Nadler said. "Attorney General Barr has thus far indicated he will not meet the April 2 deadline set by myself and five other Committee chairs, and refused to work with us to provide the full report, without redactions, to Congress."
"I have asked the Committee to authorize me to issue subpoenas, if necessary, to compel the production of documents and testimony," he added.
Law&Crime mentioned earlier that it looks like this subpoena effort may fall flat, resulting either in a protracted litigation that could go on for years, or the possibility that Barr may recommend that President Trump assert executive privilege over certain parts of the report. That's how it went with former Obama AG Eric Holder regarding the Fast and Furious controversy.
[Image via Fox News screengrab]
Have a tip we should know? [email protected]