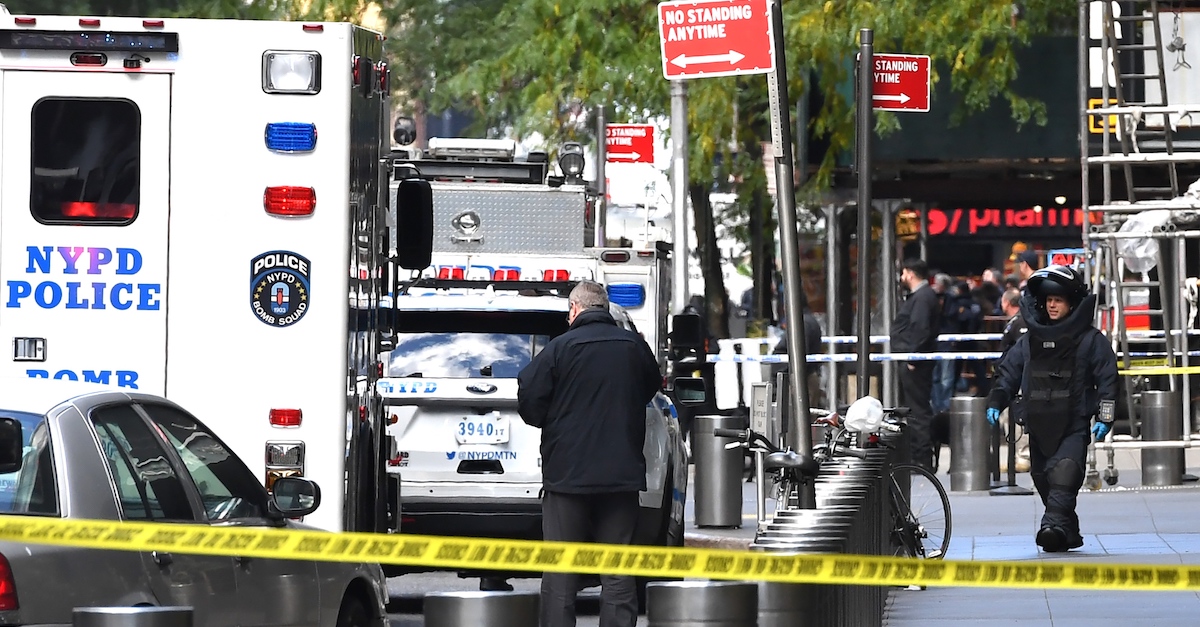 First it was the home of billionaire liberal donor George Soros, then it was the New York suburban home of Hillary and Bill Clinton, then it was former President Barack Obama and then it was the offices of CNN (thought that package was addressed to former CIA Director John Brennan, who doesn't work there). Police are also investigating a suspicious package sent to former DNC chairwoman and Democrat Rep. Debbie Wasserman Schultz on Wednesday. Meanwhile, another suspicious package was reportedly sent to former Obama Attorney General Eric Holder. Still another package was reportedly addressed to Democratic Rep. Maxine Waters (D-Calif.). It is currently suspected that these incidents are linked.
Everyone wants to know who is responsible for sending pipe bombs to the residences or offices of various Democrat-affiliated figures, and a news organization, frequently criticized by President Donald Trump.
Many are referencing Ted Kaczynski, also known as the Unabomber. A more recent example of serial bombings via package occurred in Austin over the course of two and a half weeks back in March of 2018. Compared to the search for the Unabomber, whose crimes spanned 17 years, this was a quick resolution. The massive manhunt ended with the explosion death of the perpetrator, Mark Anthony Conditt. 
Law enforcement experts have indicated that the devices being taken into custody in advance of their detonation is critical, as authorities may be able to find signatures unique to the bomb-maker(s).
But how long might it to identify the perpetrator or perpetrators in this day and age?
Rick Hahn, retired FBI and explosives/counter-terrorism expert, told Law&Crime that he believes "the perpetrator or perpetrators of these acts will be identified within two weeks or less. "
He said that the ubiquity of video surveillance is a game-changer when it comes to these investigations nowadays. The potential two weeks or less timeline is "largely owing to the widespread use of video surveillance, both by government agencies (the US Postal Service) and commercial enterprises," he said. Hahn also indicated that facial recognition advances will aide in the relatively swift identification of the person or people responsible.
Hahn said that the capture of the individual or individuals is a separate question.
"Dependent upon their level of sophistication, capture may take a long time," he said.
Retired assistant director of the FBI and former Homeland Security Director for New York James Kallstrom echoed Hahn's assessment, saying that he thinks the identification of a suspect or suspects "won't take very long at all." Kallstrom indicated, however, that this didn't sound like a very sophisticated plot. That these devices were caught before detonation supports that.
"They sound like very amateurish devices," Kallstrom said, adding that it the perp(s) have shown themselves to be "naive." Kallstrom said that a person with a level of sophistication could not reasonably expect a bomb to reach a former president or presidents of the United States.
Right now, Kallstrom said, authorities are likely poring through databases for things like threatening letters (or other threats) that could fit the modus operandi of the person or people involved. Then there's the forensic analysis of evidence authorities have in their possession.
Andrew Bringuel, a now-retired FBI Agent Supervisor Instructor and Researcher at the FBI Academy's Behavioral Science Unit with more than 27 years of experience, told Law&Crime that "it is true that today people create more 'digital exhaust' that can lead to quicker detection of an anonymous bomb maker."
He said that the investigative process has changed "little" from days of the Unabomber investigation.
"Agents from the ATF and FBI will go over the IED's nomenclature to determine if there is a unique 'signature' that tips back to a known bomb maker, they have databases that can identify types of IEDs and the person who made it, they will look at the physical evidence including fingerprints, fibers like hair or rug, and DNA," Bringuel said. "The investigators will trace route the packages from delivery to determine if there is evidence showing the subject mailing the packages, there will be hundreds of interviews conducted within days and those will create new investigative leads."
Bringuel emphasized as well that video advances will greatly aid investigators in their efforts.
"In all, it will still be hard to catch the subject unless he/she makes a mistake which is very real," he said. He added that, despite the trying circumstances, "There will be no panic and a high level of communication and cooperation between local, state, and federal agencies."
On a related note, how severe could the punishment for the mailing of these explosive devices be?
18 USC §1716 covers injurious articles as nonmailable, and it says that anyone who knowingly deposits "anything declared nonmailable by this section" with the "intent to kill or injure another" faces a fine and a maximum of 20 years or both. If the perpetrator in this case is the same person, there would be multiple counts and these counts would add up to some significant prison time.
If the "nonmailables" had resulted in the death of a person, the perpetrator(s) could, of course, get the death penalty or life in prison.
[Image via Timothy A. Clary/AFP/Getty Images]
Have a tip we should know? [email protected]