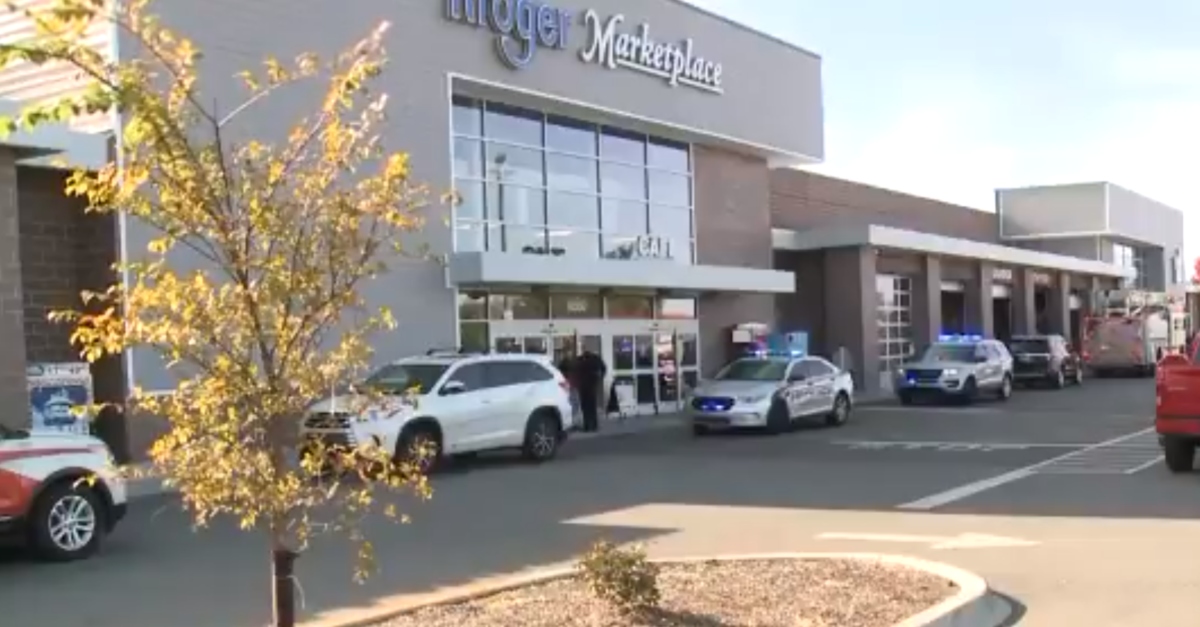 Two people were shot and killed during a shooting at a Kroger grocery store in Kentucky, Jeffersontown police chief Sam Rogers told reporters. He said they got 911 calls about shots fired at the location, and they dispatched officers.
Cops arrived, and determined that a male suspect entered the store, and opened fire at a male victim, the chief said. The shooter then left the store, and then opened fire at a female victim.
Both victims died, Rogers said. At some point, the suspect encountered an armed bystander, the chief told reporters. Gunfire allegedly ensued, but no one was struck, he said.
Officers apprehended the suspect. The investigation is still ongoing, and Rogers said he had no direct knowledge of what statements the shooter has made. He didn't know about the motive. Under questioning by reporters, he said that preliminary information suggested that this may have been a random shooting.
His account doesn't match another man's story. A witness told WDRB reporter Valerie Chinn that he saw two people in a shootout. An elderly woman was fatally injured in the crossfire, he said.
Just talked to a man who is an EMT and was shopping and he saw two people shooting at each other and says an elderly woman was caught in the crossfire . He tried to do CPR on her, but says she died. @WDRBNews pic.twitter.com/H9SNqBVq7I

— Valerie Chinn WDRB (@ValerieChinn) October 24, 2018
"Thank to the quick response of the local police department, the suspect was apprehended and our store is secure," Kroger said in a statement. They are referring questions to law enforcement.
#jeffersontown pic.twitter.com/68rD2R27ID

— Kroger News (@KrogerNews) October 24, 2018
Several dozen people were reportedly at the location during the shooting.
Listening to scanner traffic on some sort of incident at Kroger on Taylorsville Road in J-Town. Police are clearing the store right now. There were reports of shots fired. 75-80 employees and customers inside. Scanner talking about 2 shooters. No mention of anyone hurt.

— Jason Riley (@JasonRileyWDRB) October 24, 2018
Still no official word from police on what's going on out here but multiple Kroger employees and employee family members have told us a person came in shooting— one woman says her sister had to walk over a dead body to get to safety once police arrived and locked down building. pic.twitter.com/Wrjyn4vv2Y

— Lauren Adams (@WLKYLaurenAdams) October 24, 2018
Note: This article has been updated with additional information.
[Screengrab via WLKY]
Have a tip we should know? [email protected]