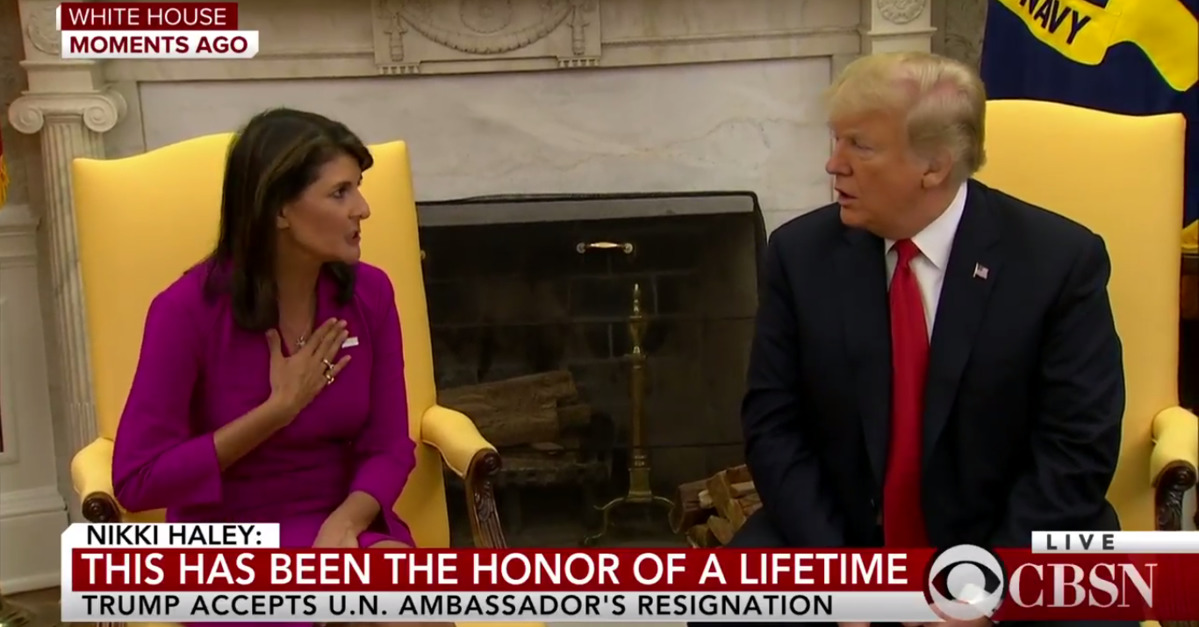 Nikki Haley announced her resignation as U.S. Ambassador to the United Nations late Tuesday morning. The former governor of South Carolina, Haley served in the post since 2017 when she was appointed by President Donald Trump.
After media reports of the impending move surfaced, Trump verified the news via Twitter with a statement identifying Haley as a "friend." During a press conference and in later remarks to reporters, Haley gave two reasons for her exit: (1) she wanted to be able to speak her mind and campaign for President Trump in 2020; and (2) she felt it was time for a break. Trump even remarked that Haley had previously informed him that she would want a break at some point.
Overshadowing the apparently chummy relationship between Trump and Haley–and her stated reasons for leaving the administration–are ethical concerns which threaten to tarnish Haley's image.
Those concerns center around questions about who paid for Haley's private travel while she was serving as the UN ambassador. The day before Haley announced her resignation, a non-partisan government watchdog organization filed an official request calling for an ethics investigation into the now-former ambassador.
On Monday, Citizens for Responsibility and Ethics in Washington (CREW) submitted a request for an ethics investigation with the State Department's Inspector General regarding seven private flights Haley and her husband took while she was an employee of the federal government. A press release notes:
Nikki Haley should be investigated to determine if she complied with ethics regulations when she accepted seven free flights for herself and her husband on luxury private aircraft from three South Carolina businessmen … Those flights were between New York, Washington, DC, and three cities in her home state of South Carolina, and appear to have been worth tens of thousands of dollars to her. In her financial disclosure report, Ambassador Haley asserted that each gifted flight qualified for an exception based on a personal relationship with the giver.
The release asserts that the explanation provided by Haley for why she accepted those flights simply isn't enough.
"The report, however, does not provide enough information to demonstrate that this exception was applicable to the flights," CREW's statement notes. "Whether the exception applies depends partly on whether the three businessmen were the only sources of the gifts; if business entities were sources of the gifts, the exception was inapplicable."
CREW also outlines the concerns with accepting such private travel from the wealthy.
"Federal ethics regulations prohibit employees from soliciting or accepting gifts given because of the employee's official position," the release continues. "They also direct employees to consider declining otherwise permissible gifts if they believe a reasonable person would question their integrity or impartiality as a result of accepting the gifts."
CREW Executive Director Noah Bookbinder tore into Haley's ethical quandary later on in that same press release. He noted:
By accepting gifts of luxury private flights, Ambassador Haley seems to be falling in line with other Trump administration officials who are reaping personal benefits from their public positions. Our ethics laws are clearly written to prevent even the appearance of corruption and improper influence. We're calling on the State Department's inspector general to further investigate the nature of these gifts, determine whether they are in line with ethics rules, and ensure that employees like Ambassador Haley are fully trained on the application and importance of ethical standards.
Law&Crime reached out to the U.S. Mission for the United Nations for comment and clarification on Haley's departure but no response was forthcoming at the time of publication.
Read CREW's full ethics complaint here.
[Image via CBSN screengrab]
Follow Colin Kalmbacher on Twitter: @colinkalmbacher
Have a tip we should know? [email protected]