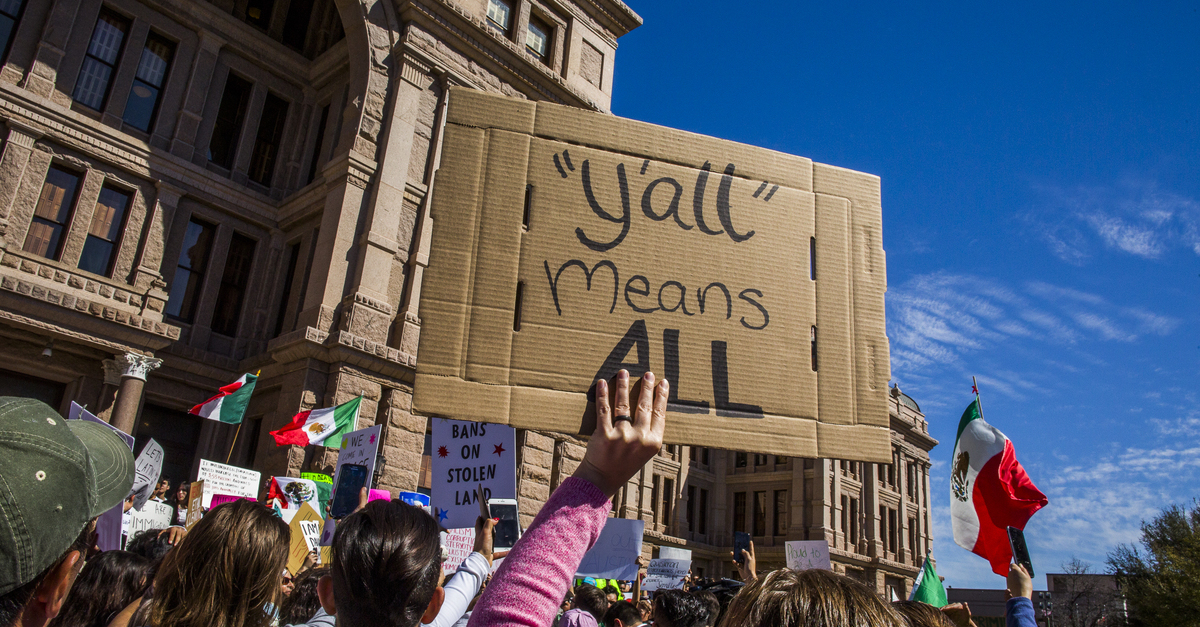 A federal court on Wednesday issued an injunction against the Texas Secretary of State which bars elections officials from purging nearly 100,000 Texans included on a controversial list which claimed their voter registrations might be illegal. U.S. District Judge Fred Biery ruled in favor of non-profit plaintiffs who claimed the attempted removal of recently-naturalized citizens currently registered to vote is both discriminatory and unconstitutional.
"The evidence has shown in a hearing before this Court that there is no widespread voter fraud," Biery concludes at the beginning. "The challenge is how to ferret the infinitesimal needles out of the haystack of 15 million Texas voters."
Texas officials, the court determined, didn't do a very good job of rising to that challenge. In the judge's estimation, they did quite a bit of harm.
In a four-page ruling, Judge Biery takes repeat aim at Texas Secretary of State David Whitley over his office's issuance of an advisory notice instructing local officials to target 98,000 recently-naturalized Texans who had previously indicated they were not citizens but who are currently registered to vote.
Compiling this list in the first place was a problem because it immediately produced "flawed results," the court determined.
Judge Biery detailed how flawed those results were:
Out of 98,000 new American voters on the list, thus far approximately 80 have been identified as being ineligible to vote. Almost immediately upon sending the list, the government had an "oops" moment, realizing that 25,000 names should not have been included. It appears this is a solution looking for a problem.
The decision also contains some relevant statistics from a similarly-situated state:
As plaintiffs' counsel stated at the preliminary injunction hearing, "[o]n the Florida case,. . . they started at 180,000 identified voters in that state, and by the time they went through all the sifting, they ended up with 85" people who were ineligible to vote.
"The Florida program, similar in nature to Texas, was ultimately abandoned by the state," Judge Biery noted in his decision–which quoted both William Shakespeare and Henry David Thoreau in order to make the case that Texas officials had created this suddenly complicated problem out of whole cloth.
Not only was the basic nature of the list flawed, the court said, it promoted unacceptable "fear and intimidation."
As Law&Crime previously reported, Whitley's advisory also instructed officials to send each registered voter on the faulty list a notice which demands proof of citizenship within 30 days or risk their voter registration being canceled in various ways.
The order rubbished this method of voter contact:
[P]erfectly legal naturalized Americans were burdened with what the Court finds to be ham-handed and threatening correspondence from the state which did not politely ask for information but rather exemplifies the power of government to strike fear and anxiety and to intimidate the least powerful among us. No native born Americans were subjected to such treatment.
Judge Biery's decision therefore implies that Whitley's attempts to proactively purge voter rolls in Texas–but only those including naturalized citizens– was both in violation of the Fourteenth Amendment's promise of Equal Protection and inappropriately disparaging to naturalized Americans.
In the end, local officials were ordered "not to remove any person from the current voter registration list until authorized by" the court and not to send  "any notice of examination letters without prior approval" of the court. Whitley is ordered to tell the counties impacted by the initial 98,000 voters "not to send any notice of examination letters nor remove voters from registration without prior approval of the Court with a conclusive showing that the person is ineligible to vote."
And, in a final passage, Judge Biery gives Whitley some timeless advice:
The Court further finds and concludes the Secretary of State, though perhaps unintentionally, created this mess. As Robert Fulghum taught in All I Really Need to Know I Learned in Kindergarten, "always put things back where we found them and clean up our own messes."
Advocates immediately cheered the decision.
"This is a major victory for Texas voters," said Campaign Legal Center' Danielle Lang in a statement obtained by Law&Crime.
"The court rightly agreed with our argument that Texas threatened voter purge struck fear and anxiety into the hearts of voters," Lang continued. "Texas unnecessarily targeted tens of thousands of people who were properly registered citizens, intimidating naturalized citizens from exercising their rights. Let this be a message to the rest of the country that states will face consequences when they threaten their citizens' right to vote."
[image via Drew Anthony Smith/Getty Images]
Have a tip we should know? [email protected]