Supreme Court nominee Brett Kavanaugh is set to go back in front of the Senate Judiciary Committee on Monday to face questions regarding allegations of an attempted sexual assault in the 1980s. Professor Christine Ford says that when she was at a party, Kavanaugh was "stumbling drunk" and forced himself on her, groped her, and tried to remove her clothing before she was able to escape.
Kavanaugh has repeatedly denied the allegations, but the idea that he was intoxicated at a high school party appears to be consistent with what's written on his yearbook page. A copy of the page, viewed by Law&Crime, includes several phrases that appear to be references to events and inside jokes between him and his friends. Among them? "Keg City Club (Treasurer) — 100 Kegs or Bust." Having something like that on a high school yearbook page certainly supports the notion that Kavanaugh did drink during his younger days.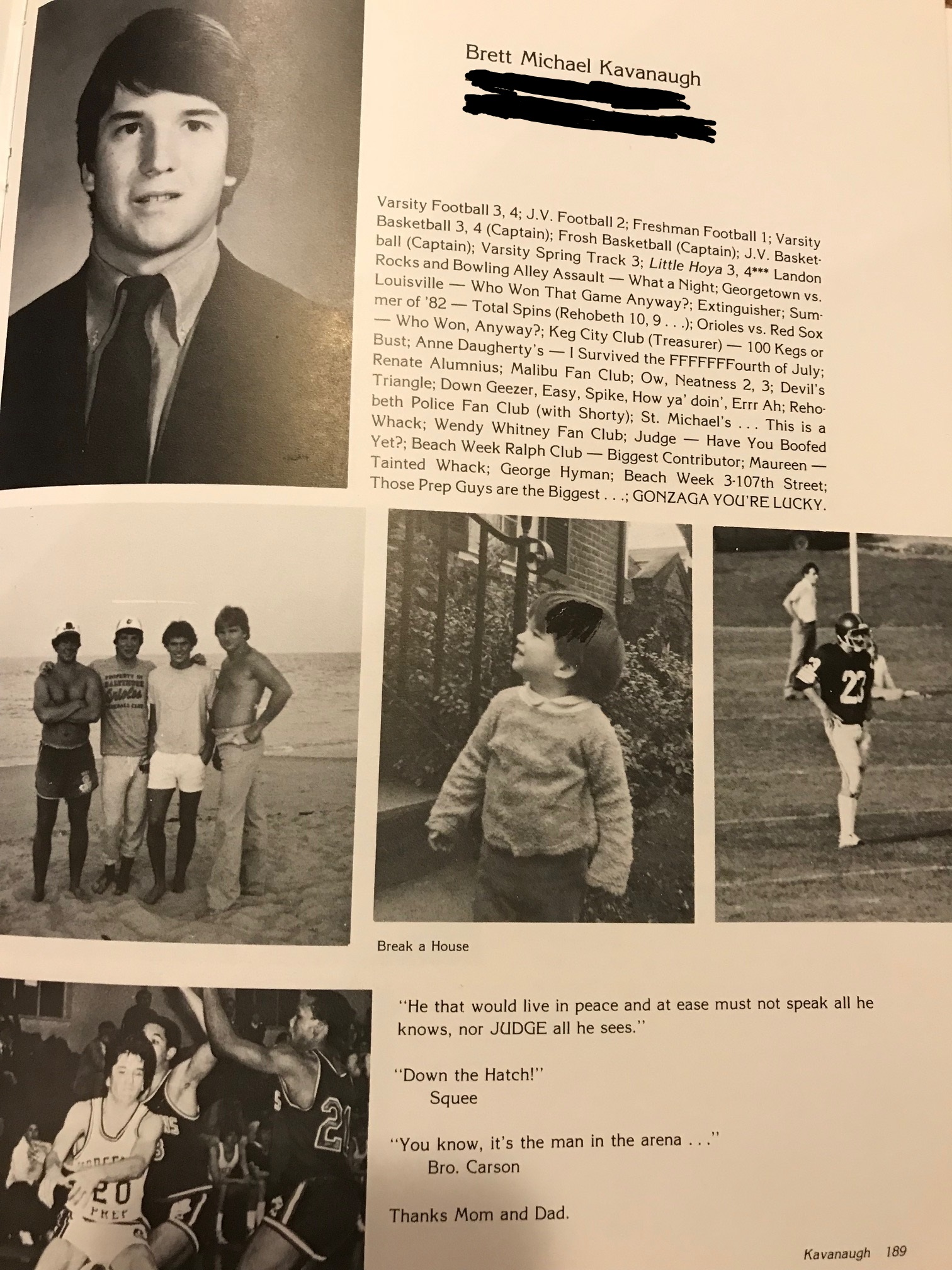 The image of the yearbook page was provided by attorney Seth Berenzweig, who told Law&Crime he received it from someone who approached him with it on Monday. Berenzweig also pointed to other words in the yearbook that he says could relate to the allegations against Kavanaugh, specifically the phrase, "Devil's Triangle," which he said could mean a three-way sexual encounter involving two men and one woman. Ford claims that Kavanaugh tried to assault her while another man, Mark Judge was in the room. She claims Judge watched the alleged encounter and then jumped on top of them, at which point she managed to free herself and escape the room.
Indeed, urbandictionary.com confirms that this meaning has been attributed to a threesome, but that's now. There's no indication that teens in the 1980s used the phrase the same way. The term "devil's triangle" has also been known to refer to a vagina, or the Bermuda Triangle.
According to Berenzweig, the owner of the yearbook did not intend to attack Kavanaugh, but thought the information was relevant, and wanted to "make sure all information is provided" and "all the right questions are asked" when Kavanaugh goes before the Senate Judiciary Committee on Thursday.
After allegations against Kavanaugh were first reported, Republicans provided a letter signed by 65 women who said they knew Kavanaugh back then and that he "always treated women with decency and respect." Another letter, signed by more than 200 women who say they went to Ford's school (not necessarily at the same time), supported Ford, claiming her allegations were "consistent with stories we heard and lived" while at the school. That letter did not specify that any of their stories had anything to do with Kavanaugh personally.
Note: This article has been updated to include information regarding letters supporting both Kavanaugh and Ford.
[Featured image via Chip Somodevilla/Getty Images; yearbook page provided by Seth Berenzweig]
Have a tip we should know? [email protected]