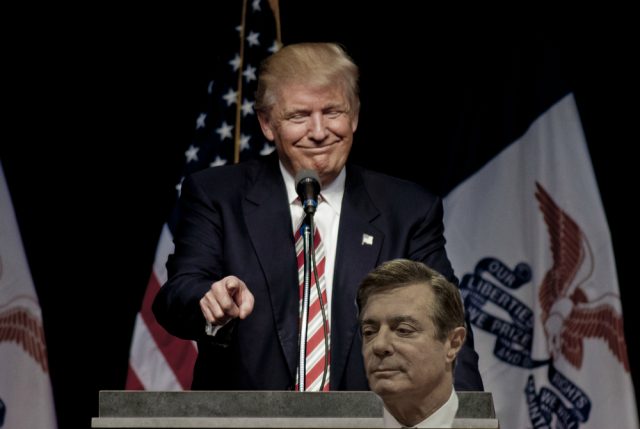 Paul Manafort has been indicted along with longtime associate Richard W. Gates on multiple charges–none of which are directly related to Donald Trump and the allegations of Russian meddling in the 2016 presidential election.
The 31-page indictment contains 12 separate counts. Eight of those counts are being brought against both Manafort and Gates. Four of the counts are being brought against Manafort alone. Three of the counts are being brought against Gates alone.
The first count, a general charge of conspiracy against both men, is detailed in a post by LawNewz's Ronn Blitzer here.
The second count is a charge of conspiracy to commit money laundering against both Manafort and Gates. According to the indictment, both Manafort and Gates transported, transmitted, and transferred vast sums of money and monetary instruments into and out of the United States with the knowledge that at least some of the funds and/or property involved were the result of unlawful activity. The indictment goes further to allege that the funds used were known to be the products of criminal activities including tax evasion, fraud, and money laundering. The indictment reads:
In total, more than $75,000,000 flowed through the offshore accounts. MANAFORT laundered more than $18,000,000, which was used by him to buy property, goods, and services in the United States, income that he concealed from the United States Treasury, the Department of Justice, and others. GATES transferred more than $3,000,000 from the offshore accounts to other accounts that he controlled.
Counts three through six concern Manafort alone. These counts allege multiple violations of the Bank Secrecy Act ("BSA") over the course of 2011-2014. In each year, Manafort is alleged to have knowingly and willfully failed to file a Report of Foreign Bank and Financial Accounts ("FBAR") with the Financial Crimes Enforcement Network ("FinCEN") in violation of IRS rules. Essentially, Manafort is accused of failing to file records of multiple foreign bank accounts over the course of multiple years.
Counts seven through nine concern Gates alone. These counts cover the same FBAR reports mentioned immediately above. Gates is accused of knowing and willful violations of FinCEN and IRS regulations concerning those reports for the years 2011-2013. Willful violations of FBAR filing carry civil penalties including fines set at the greater of $100,000 or 50 percent of the amount in the unreported bank account for each violation.
Count number ten is against both men. In the indictment, they are both charged with failure to file as agents of foreign principals in Ukraine. To wit, the Government of Ukraine, the pro-Russian Ukrainian political party known as the Party of Regions and the former President of Ukraine, Viktor Yanukovych. Such violations of federal law carry maximum sentences of five years per violation. Both men are approximately accused of such violations for the years 2008-2014.
Count eleven accuses both Gates and Manafort of making multiple false and misleading statements in violation of the Foreign Agents Registration Act ("FARA") and the filings that act mandates for foreign agents. Each violation is said to knowing and willful. Each violation carries penalties of maximum five-year sentences for such knowing and willful violations (along with penalties up to $10,000 per violation.) Depending on how one reads the indictment, Gates and Manafort are, combined, accused of between five and seven distinct false or misleading statements spread across five broader statements.
Count twelve is a catch-all charge against both men. It concerns their allegedly various and multiple false statements documented in the charging indictment. According to USC § 1001, those false statements carry a maximum penalty of five years a piece.
Finally, the indictment carries what's known as a forfeiture allegation. In the event of finding either or both men guilty, the U.S. government is prepared to seek forfeiture of their assets to satisfy certain aspects of their potential sentencing. Basically, this is a shot across the bow at both Manafort and Gates. What Mueller and his crew are saying here is: 'We think we've got you. And if we get you, we're going to take absolutely everything you have. Every asset, piece of property involved in the scheme. Everything. Your families might be out on the street.'
The voluminous nature of the charges–and the forfeiture threat–are obvious attempts to scare and cajole Manafort and Gates, for sure, but as of now it's unclear whether Mueller simply wants plea bargains or for the underlings to roll on juicier principals. As of now, however, any relationship to Trump and his closer orbit is purely speculation.
[image via screengrab]
Follow Colin Kalmbacher on Twitter: @colinkalmbacher
Have a tip we should know? [email protected]