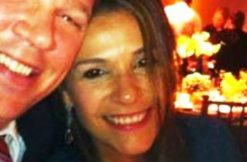 On Thursday, a New Jersey Transit Train crashed through a barrier at Hoboken station. It reportedly jumped the tracks, injuring over 100 people and killing one: Lawyer Fabiola Bittar de Kroon lost her life when she was hit by debris.
De Kroon, 34, just became a mother, and worked around the world, according to a NY Daily News profile.
"I had a beautiful, clever daughter and I have a wonderful granddaughter," her mother Sueli Bittar told the outlet in an interview from Santos, Brazil. "Her husband is a wonderful guy. I don't know what to tell you because it's very hard for us now. It is very sad."
De Kroon used to work at the Brazil offices for SAP, a multinational computer software company.
"We express our deepest condolences to her family, friends, and all those impacted by today's tragic event," a spokesman told The Daily News.
De Kroon had moved to the area after her husband got a job transfer there, according to NBC New York. When she died, she had just left her daughter at the daycare.
The husband, Daan, reportedly asked the daycare director Carlos Magner for guidance on how to break the news to his 18-month-old.
Magner's advice? "'You're not born knowing how to handle this,'" he recalled telling Daan. "'So do the best you can. Just stay strong for your daughter.'"
[image of de Kroon with her husband via Facebook]
–
Follow Alberto Luperon on Twitter (@Alberto Luperon)
Have a tip we should know? [email protected]