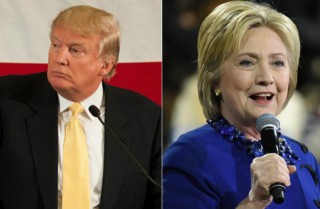 With the polls getting closer between Donald Trump and Hillary Clinton, there is a very real possibility that we could end up in a 'contingent' election. That means that if no candidate wins a majority in the Electoral College, the race would be decided by the U.S. House of Representatives, with each state delegation having one vote. With Republicans dominating the House that could hand the election to Donald Trump. But, that's not guaranteed. So let's run through some other scenarios. For one, there is concern about Hillary Clinton's health, especially after her stumbling spell and pneumonia diagnosis. And let's be honest, 70-year-old Donald Trump is not exactly a spring chicken either.
As we've pointed out, in almost every step along the way, there is a contingency process in case something happens to one of the candidates. If Clinton wins, and then falls ill/dies before she's inagurated, the 20th Amendment says Tim Kaine would become President.  If she drops out before the election, the Democratic Nation Committee would pick a new nominee.
But, there is ONE interesting scenario that would quite literally send the nation into quite a bit of chaos. If 1) the election is tied, 2) the vote is being decided by Congress, and 3) one of the candidates dies. If all three of those things happen, there is literally NO process in place for what happens next.
"It would be horrible," Michigan State University Law Professor Brian C. Kalt told LawNewz.com. Kalt has written extensively about this very issue, his latest paper appeared in the Harvard Journal on Legislation. Given the unpredictability of this election, this is worth exploring.
"When no presidential candidate wins a majority in the electoral college, the House of Representatives holds a "contingent election" between the top three candidates. Unfortunately, if one of those three candidates should die there is no way to provide a substitute, so the dead candidate's supporters and party would be disenfranchised," he wrote.
The confusion all stems from Section 4 of the Twentieth Amendment, which states:
The Congress may by law provide for the case of the death of any of the persons from whom the House of Representatives may choose a President whenever the right of choice shall have devolved upon them, and for the case of the death of any of the persons from whom the Senate may choose a Vice President whenever the right of choice shall have devolved upon them.
That basically means that Congress has to pass a law to create a process about what to do if a candidate dies and the election is being decided by Congress.  As Kalt points out, for eighty-three years Congress has never seriously considered this and has never passed legislation. Basically, there is no plan in place.
"In every other stage in the process, dead candidates can be replaced; only here can an assassin eliminate an entire party from consideration in the election. A contingent election would be dramatic enough as it is; without Section 4 legislation, a candidate's death could turn the election from a drama into a disaster," Kalt said. He references an assassin, but a sudden health-related death is another possibility.
So what would happen if Clinton suddenly dies in this circumstance? Republicans would probably try to pass a law that would favor Trump — and disadvantage the Democrats. Still, President Obama would have to sign off on it. It would end up being a mess.
"When the stakes are this high, you can't count on people (Congress)to play fair," Kalt said, "There would be a result. Somebody would end of being President … it wouldn't be a good process."
For the last several months, Kalt has urged lawmakers to pass a law so we wouldn't find ourselves in this nightmare scenario. So far, no one has listened to him. In his paper, he proposed draft legislation including having the House of Representatives consider the deceased candidate's running mate as a replacement. Either way, this probably should be figured out, and preferably before it's too late.
[images via shutterstock]
This is an opinion piece. The views expressed in this article are those of just the author.
Rachel Stockman - President / On Air Host