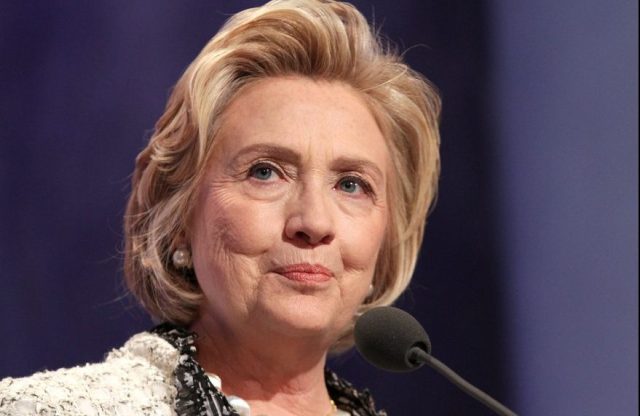 As the Mueller investigation continues to dominate headlines, President Donald Trump has been under increased pressure to submit to an interview by Special Counsel Robert Mueller's team. On Wednesday, Trump repeatedly dodged whether he would agree to be interviewed after saying 8 times there was "no collusion" between his campaign and the Russian government.
Then, he quickly turned his attention to his former opponent Hillary Clinton's own interview with the FBI, which occurred during the election when she was under investigation for using a private email server. Trump said:
"When you talk about interviews, Hillary Clinton had an interview where she wasn't sworn in, she wasn't given the oath, they didn't take notes, they didn't record and it was done on the Fourth of July weekend. That's, perhaps, ridiculous, a lot of people looked at that as a very serious breach."
So yes, it's true Clinton was interviewed over the Fourth of July weekend, and it is true she was not under oath when she was questioned for 3 1/2 hours at FBI headquarters  However, here's a little secret that Trump doesn't seem to understand: The FBI NEVER questions anyone under oath during an interview.
Literally, that is not how they do it. In fact, an FBI agent doesn't have the power to put anyone under oath during an interview.  Have you ever heard of any suspect being interviewed by a police detective under oath? Anyone with the basic knowledge of a Law & Order episode would know that. But, still somehow, the headline made its way into mainstream media, and was used as a talking point to bash the FBI by pundits — and now Trump.
Oaths are taken during testimony in court, during a Grand Jury proceeding or during a congressional hearing — not during an FBI interview. For example, if Trump was subpoenaed by Mueller's team to testify before a grand jury, he would be put under oath.
Furthermore, the fact that the FBI "did not administer an oath" doesn't mean that Clinton would not have faced any repercussions if it was later discovered she lied to agents. Lying to an agent in an interview is a federal crime under 18 USC 1001 and is punishable by up to 5 years in a federal penitentiary. This is the same crime, by the way, that George Papadopoulos and former Trump National Security advisor Michael Flynn pleaded guilty to. They weren't under oath when they were interviewed by the FBI (and then lied) either.
This is an opinion piece. The views expressed in this article are those of just the author.
Rachel Stockman - Editor in Chief / On Air Host